Vince Hall Creates the Buzz in Second Scrimmage
by Will Stewart, TechSideline.com, 8/17/04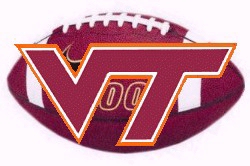 Playing with the first-string defense in place of the injured Mikal Baaqee, redshirt freshman linebacker Vince Hall was tops with seven tackles, and he registered two of the defense's five sacks in the Hokies' second 2004 fall scrimmage. The scrimmage featured a number of goal-line situations, and Hall was in on three tackles inside the one-yard line, including one tackle that caused a fumble.
With Baaqee out of the scrimmage and in a sling because of a trapezius (neck/shoulder) muscle strain, the 6-0, 240-pound Hall was elevated to first-team defense, and he took advantage of the opportunity.
On his first series, Hall sacked Sean Glennon on third and six with a blitz from the left side of the defense, and on his second series, he made tackles on consecutive plays from the one-yard line. First he tackled the ball carrier for no gain on third and goal from the one, then he teamed up with Carlton Powell and Xavier Adibi to knock the ball loose from George Bell in the backfield on fourth and goal from the one. Bell had been stopped cold behind the line of scrimmage by Blake Warren, and on Bell's second effort, Hall and company knocked the ball loose.
On the next to last play of the scrimmage, Hall teamed up with Blake Warren to tackle freshman tailback Branden Ore on third and goal from the one.
Ore, Bell, and Justin Hamilton all received roughly equal numbers of carries in this 62-play scrimmage, in which projected starting tailback Cedric Humes did not play. On Monday, Humes felt something "pop" in his ankle and he experienced some pain, and though X-rays turned up negative, he sat this scrimmage out. In his absence, Hamilton carried 10 times for 30 yards, Bell carried 8 times for 33 yards, and Ore had 7 carries for 11 yards. Hamilton scored on a 1-yard dive, Bell scored on a 5-yard run, and both Bell and Ore fumbled once.
Among the QBs, Bryan Randall completed 6-of-9 passes for 68 yards, the ailing Cory Holt (sore arm) went 3-of-6 for 16 yards, and Glennon completed his only pass for 3 yards. Josh Hyman, wearing Ernest Wilford's old #19, caught three passes for 32 yards to lead the receivers. The other seven completions were spread out amongst seven receivers, with Eddie Royal catching a pass for 11 yards. Royal also returned one punt (5 yards) and took a kickoff that was 7 yards deep in the end zone and ran it out to the 32-yard line.
Brandon Pace strengthened his hold on the starting placekicking job, going 3-of-4 on field goals, making a 44-yarder, a 43-yarder, and a 36-yarder, and narrowly missing on another 36-yarder.
The Hokies will scrimmage again Saturday.

INDIVIDUAL STATISTICS (per hokiesports.com and Beamerball.com):
RUSHING: Bell 8 carries-33 yards, Hamilton 10-30, Ore 7-11.
PASSING: Randall 6-9, 68 yards; Holt 3-6, 16 yards; Glennon 1-1, 3 yards.
RECEIVING: Hyman 3 catches-32 yards, Morgan 1-17, Royal 1-11, D. Brown 1-8, King 1-6, Harper 1-5, Johnson 1-4, Kinzer 1-3.
TACKLE LEADERS: Hall 7, Daniels 5, Williams 4, Griffin 4, Fuller 4.
SACK LEADERS: Hall 2, Williams 1, Burchette 1, Ellis 1.