Defense Controls First Fall Scrimmage
by Will Stewart, TechSideline.com, 8/14/04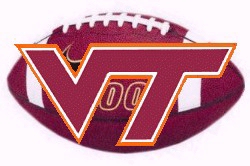 A 20-yard touchdown pass from Bryan Randall to tight end Jeff King was the biggest offensive highlight on a day when the Hokies gave most of the snaps to backup QBs Cory Holt and Sean Glennon. The result was a 46-play scrimmage in which the defense controlled the action, racking up five sacks.
Randall played 12 plays, completing three of four passes and hitting King with a beautiful strike down the middle for a 20-yard touchdown. On the play, King went up and took the ball away from whip linebacker James Anderson, who had solid coverage, but not good enough.
Holt (1-of-3, 6 yards) and Glennon (3-of-8, 9 yards) went the rest of the way. After the scrimmage, Coach Frank Beamer declined to name one as more impressive than the other, though he did say they both played like freshman (some good, some bad). He said he and the staff would take a look at the film and talk things over.
Freshman wide receiver Eddie Royal, who appears to be headed for playing time this fall despite missing a week with a minor hamstring injury, was very active, returning kicks and punts in addition to playing receiver. Royal had one reception for three yards and ran a reverse for 10 yards.
Brandon Pace, the clear frontrunner for the placekicking duties, had two field goals and one extra point blocked. Beamer didn't pin the blame on Pace, but instead said that the Hokies had poor protection and one bad snap. Nic Schmitt provided the placekicking highlight, hitting a 37-yard field goal.
Xavier Adibi, who tweaked his hamstring again Friday, and Cedric Humes, who is still recovering from the broken leg he suffered in the spring, were the two most notable players who sat out the scrimmage.
The Hokies will scrimmage again Tuesday.

INDIVIDUAL STATISTICS (per hokiesports.com):
RUSHING: Bell 6 carries-16 yards, Hamilton 2-5, Ore 4-5, Royal 1-10.
PASSING: Randall 3-4, 42 yards, 1 TD; Holt 1-3, 6 yards; Glennon 3-8, 9 yards.
RECEIVING: Gilchrist 3 catches-12 yards, King 1-20, Hyman 1-15, Clifton 1-7, Royal 1-3.
TACKLE LEADERS: Anderson 4, McPherson 4.
SACK LEADERS: Williams, Cooper, Robertson, Ellis, Ruff, 1 each.