Game Preview:
Hispanic College Fund Classic
Arkansas State at Virginia Tech

by Will Stewart, TechSideline.com, 8/22/02
Sunday, August 25th, 2002, 2:30
TV: ESPN+ (click here for stations)
Sunday forecast: (as of 2:00 pm, 8/22/02):
Isolated T-Storms (30% chance), High of 84°, low of 62°
After an interminable offseason that saw endless debate over the quarterback position, recruiting ratings, and end zone paint, the Hokies are finally ready to strap on their helmets and play football. Sure, this should turn out to be little more than a glorified scrimmage, but it is the start of the football season, nonetheless, and it couldn't come a day too soon.
Actually, for Virginia Tech, it never has come a day sooner than this one. The August 25th kickoff against Arkansas State ranks as the earliest-ever start to a Hokie football season, beating the previous record of August 30th, 1997, when the Hokies started the season at Rutgers. This game is only the fourth game the Hokies have ever played in August.
And according to the pundits, it should be a laugher. Arkansas State, playing in their eleventh season at the Division 1-A level, has won just three games in the past two years and is projected by many publications, including Athlon, as the worst team in D1-A, dead last out of 117 teams.
Virginia Tech is favored by 37 points in this game, and that may be conservative. The last time the Hokies played an underdog this big, clashing with the #113-ranked UConn Huskies in the 2001 opener, VT came away with a 52-10 victory.
Arkansas State doesn't appear to be able to muster much of a challenge for the Hokies, but that's never guaranteed, and even so, it doesn't mean that you can't learn something from watching the game. Last year's UConn game, for example, held several bad indicators for the future:
VT cornerback Ronyell Whitaker was beaten deep twice early in the game, giving up a 44-yard reception on one play and grabbing the receiver from behind for an interference penalty on the other play. Whitaker's poor performance early against UConn was a harbinger of the mental lapses he would suffer in the Gator Bowl against FSU, costing the Hokies dearly.


The Tech defense had no sacks. They would total just 30 for the year and would often be unable to sack opposing quarterbacks in key situations.


The VT special teams were sloppy. Jon Mollerup kicked one kickoff out of bounds, Carter Warley was just 1-3 on field goals, and of Vinnie Burns' two punts, one only went 32 yards because the snap bounced in front of him and threw off his rhythm. Trouble with special teams would plague the Hokies all year, especially against Syracuse and Florida State.
And of course, it was in the UConn game that Lee Suggs tore his ACL, altering Tech's season for the worse.
So what should you look for in this game? Check out the following: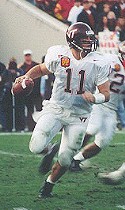 Grant Noel and backup
Bryan Randall will be
under the microscope.
(click for larger version)
The Quarterback Play. That's an obvious thing to say, because what Grant Noel and Bryan Randall do in this game will be analyzed to the nth degree. But remember that whatever their respective performances, it may not mean anything. Last year, Noel looked like a world-beater against UConn, going 16-20 with one drop and an intentional throwaway. He had 267 yards, 3 TD's, and no interceptions, and you never would have guessed the same guy would go a combined 19-45 for 199 yards, 0 TD's, 6 interceptions and 1 fumble against Pittsburgh and Miami.
Left Tackle Garry Johnson, #74 for ASU. A 6-4, 306-pounder, Johnson is truly a big-time player. Johnson is a two-time Lombardi Award nominee, is on this year's Outland Trophy and FWAA All-American watch lists, and was named a preseason first-team All-American by CollegeFootballNews.com.
The Hokies need to bring more heat from the defensive end position this season, so watch whoever lines up across from Johnson on passing downs. If the Hokie defensive ends can beat Johnson, they can beat the best, and it's a good sign. According to Athlon, Johnson has given up just two sacks in the last three seasons.
Lee Suggs and Kevin Jones. Suggs insists that his knee is 100% healthy, and I'm inclined to agree with him. Watch him to see if he's the same Lee Suggs, and to see if he has gotten better at breaking those last-second ankle tackles that he often fell victim to in 2000.
Meanwhile, watch Kevin Jones to see if his speed to the hole and his midfield vision have improved. If Tech's last two Saturday scrimmages are any indication, they have.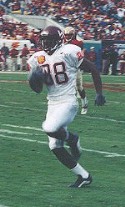 The Hokies are hoping
someone will step up to
fill the big hole left by
Andre Davis' departure
to the NFL.
(click for larger version)
The Wide Receivers. Tech will start Ernest Wilford and Shawn Witten at the split end and flanker spots. The Hokie wide receivers, with the exception of Witten, have been maddeningly inconsistent this fall. Witten has produced some impressive routes and catches in fall practices.
Linebackers Mikal Baaqee and Vegas Robinson. Both of these players are physically talented, particularly Robinson, a 6-0, 245-pound redshirt junior who bench presses 370 pounds, squats 550 pounds, and has a freakish 40.5-inch vertical leap. Baaqee, at 5-10 and 216 pounds, is almost the same size as a good VT linebacker from the recent past, Myron Newsome (5-9, 216).
Athleticism is all good and well, but being a good linebacker is all about positioning and reading the offense. Are you there to greet the running back when he hits the hole? Can you cover the tight end and the running backs out of the backfield? Keep a close eye on Baaqee and Robinson, and see if they're in the right spot at the right time.
Special Teams. As noted above, special teams were a nightmare at times last year for the Hokies. They need more consistency from placekicker Carter Warley and punter Vinnie Burns. Warley went 1-3 last year against UConn, and Burns had two punts of 52 and 32 yards, and that's pretty much how the season went for those two. Warley has been very impressive in fall practice, reminding everyone of the All-Big East performer who went 7-9 on field goals in 2000, not the mediocre kicker who went 11-21 last year. Meanwhile, the jury is still out on Burns, and Frank Beamer has been holding strong-legged freshman kicker Nic Schmitt (#23) over the heads of Burns and Warley. Perform or sit, guys.
VT's Defensive Line Play. If Arkansas State has a strong point, it's the size of their offensive line. Of the ten players in their two-deep offensive line, just two -- centers John Allison and Tab Slaughter -- go less than 300 pounds. Five of the other eight guys are over 310 pounds, some of them well over it. ASU may be at the bottom of the Division 1-A rankings, but their offensive line is as big as anybody's. How strong and quick they are is unknown, but nonetheless, watch the VT defensive linemen and see how they stack up against a big line like ASU's.
The Lowdown
Arkansas State, which wasn't very big and talented last year, lacks experience at key positions this year, most notably quarterback and tailback. They're solid on the offensive line and bring back eight starters on defense (spread evenly amongst the line, linebackers, and defensive backs), but they shouldn't provide much of a challenge for the Hokies, no more than JMU, Akron, and UConn have in the last three season openers for VT.
Assuming the Hokies take care of business, Tech will substitute liberally as this game wears on ... or maybe not. They've got a lot of young players that need seasoning before next week's game against LSU.
Prediction: Virginia Tech 49, Arkansas State 6.