TSL Extra
Defensive Player
of the Game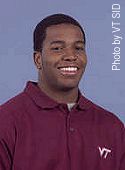 #95 Jim Davis
DE, 6-4, 251, So.
Score: 44.3 points

Click here for an
explanation of the
award and how the
scoring is done

Davis had a lineman's
dream, picking off
a WVU pass and
returning it 27 yards
for a touchdown.
He added two
unassisted tackles,
including a sack for a
3-yard loss, plus
he had one pass
defensed. Jim scored
44.3 points in the TSL
Extra defensive point
system to earn
TSL Extra Defensive
Player of the Week
honors.
2nd: Ben Taylor
with 32 points.

The TSL Extra
defensive point system
was created in TSLX
issue #5. For a
complete explanation,
including rankings of
the Hokie defenders
from the 2000
season, see TSL
Extra issue #5.

Click here to
subscribe to the TSLX!
Your subscription
includes access to
all of the back issues!
Images from
the Game
(click to enlarge)


The Prize:
The Black
Diamond Trophy


Eric Green and
the Hokie D are #1
Game Analysis: West Virginia

by Will Stewart, TechSideline.com, 10/8/01
Click here for TSL's Game Recap
The Virginia Tech Hokies continue to cut through their early-season opposition like a buzzsaw. The Hokie defense in particular is slicing up opponents and now leads the NCAA in most major categories.
This week, in analyzing Tech's victory over WVU, we'll concentrate on three items: Grant Noel, the VT running game, and the Hokie defense.
Grant Noel's Day
Last week, we cut Grant Noel some slack by not analyzing his play, but this week, we're going into "Hyper-Grant-Analysis" mode. I'll break down his passing game for you, and you can see if the breakdown matches your impressions.
Overall, Noel was 12-20 for 171 yards, no TD's, and 2 interceptions. Of his 12 completions, 9 were well thrown or perfectly thrown, making for easy catches. The other 3 completions were tough catches made by the receivers -- there was a leaping grab by Browning Wynn for a 15-yard gain down the middle; a pass in the left flat to Ernest Wilford that was caught for a 5-yard gain; and a 39-yarder to Andre Davis that was short, wobbled like a Billy Kilmer special, and was thrown off-line. Davis pulled up and made a great catch.
Of Noel's 8 incompletions, only one should have been caught. On Tech's first drive of the second half, WVU blitzed heavily. Noel and Wilford read the blitz, and Noel made the hot read and fired a slant pass to Wilford. It hit Wilford in the hands, and he dropped it.
Two other incompletions were off the receivers' fingertips: a pass in the flat to Jarrett Ferguson early in the game (Noel had his footwork mixed up), and a pass downfield after a scramble that was just out of Andre Davis's reach.
Two more incompletions weren't terribly thrown balls, but they were uncatchable. One incompletion was a short-hop to Davis on which Noel scrambled and threw it into the turf in front of Davis. On the other, Noel was blitzed and fired a short sideline pass to Davis that was high and behind him. Davis made a twisting, leaping attempt and got a hand on it, but it wasn't catchable.
The other three incompletions were awful, with two of them resulting in interceptions.
On the first interception, Noel scrambled to avoid the rush and threw a pick. The pass was behind Andre Davis, who was closely guarded by cornerback Richard Bryant. On the play, Davis was running across the middle, but he stopped as Noel started his throwing motion. Davis then restarted as Noel threw it, and the result was a pass behind Davis that Bryant was there to pick off.
It looked much worse live than it did on the replay, which clearly showed Davis's stop-and-go motion. Davis's hesitancy may have contributed to the interception, and Tech Coach Frank Beamer admitted as much. "I'm not so sure the first one wasn't the receiver's fault," he told the media after the game. "He (Davis) kind of got to standing around out there a little bit."
Noel's second interception was very poorly thrown. Wynn was streaking down the middle towards the end zone, and Noel badly underthrew him. The ball went directly to WVU linebacker Grant Wiley, who intercepted it.
When viewed live, the throw was enough to make you cringe, because it hit Wiley right in the chest (shades of Maurice DeShazo in the 1994 Gator Bowl). But on the end zone replay, you can see that Wiley was obscured from Noel's view by an official and Tech offensive tackle Matt Wincek. But that doesn't change the fact that the ball was very poorly thrown, whether Wiley was there or not. Had Wiley not been there, the ball would have landed at least five yards short of Wynn, maybe more.
Noel's third bad pass came late in the game, when Ferguson was running wide open down the middle of the field, and Noel threw a flat pass with no air under it that was underthrown by quite a bit. Noel was saved the embarrassment of the ball landing on the turf many yards behind Ferguson when WVU linebacker Kyle Kayden batted the ball out of the air.
So, to summarize, out of Noel's 20 passes, here's how I saw it:
10 were on the money. 9 of those were caught, one dropped.
3 more weren't well thrown, but were caught anyway.
4 were misfired or poorly thrown and were incomplete.
3 were pretty awful, and 2 of them were picked off, with the third incomplete.
Depending upon how critical you are, that's only 3 (15%) of his passes that were bad (the two picks and the badly thrown ball to an open Ferguson), or 7 (35%) that were bad (the 3 really bad ones plus 4 other incompletions).
First Half Breakdown: Noel started off hot, hitting 3 of his first 4. Then he went into a funk, throwing two interceptions and just one completion in passes 5-8. Then he straightened back out, and passes 9-12 included 3 completions.
Second Half Breakdown: Wilford dropped pass #13, and then Noel started struggling. #14 was the wounded duck to Davis, who caught it for a 39-yard gain. Passes 15 and 16 were off the mark, but one was caught anyway. Pass #17 was the bad throw to Ferguson that was batted down. Then Noel finished strong, completing passes 18-20 for 42 yards.
Yardage Breakdown: 3 completions of less than 10 yards; 8 completions of 10-19 yards; and 1 completion of 39 yards.
In short, the statistical breakdown and a breakdown of the tape confirm what most observers think: Noel is a pretty good passer within 20 yards, and as a matter of fact, often uncorks sharply thrown balls that are right on the money. But beyond 20 yards, it gets dicey.
The misfires to Wynn and Ferguson down the middle, one of which was picked off and one of which was batted down, are cause for concern. Noel threw both passes flat and extremely short. Fortunately, this is correctable, and the coaches will teach him to get a little air under the ball and let the receiver run under it.
As for the 39-yarder to Davis that was underthrown, there was some conjecture as to whether Noel should have released the ball sooner. Iím not sure he could have. The line of scrimmage was the WVU 49. Noel took a five-yard drop and threw it when Davis was at the WVU 30. Davis turned his head at the WVU 27, located the ball, and didn't realize until the 15 yard line how badly underthrown it was. He stopped his momentum, turned around, and made a diving catch at the 10 yard line.
Throwing a bomb when the receiver is a shade under 20 yards downfield is probably about as soon as you can release it. It took Noel that long just to figure out if Davis was going to break open.
It's safe to say at this point that a consistent deep ball isn't suddenly going to materialize in Noel's repertoire between now and the target date of December 1st, when the Miami Hurricanes come to Blacksburg. The Hokies have an effective short-range passing game that utilizes the wideouts, tight ends, and fullback, and that will be their bread-and-butter passing game from now to the end of the season.
The good news is, Noel knows the offense, runs it well, and even runs the option pretty well. "He's a good leader," Beamer told the media after the game. "His head's in the game, his heart's in the right place, and I'm glad he's on our side."
But the problem with having no deep passing game is that it allows defenses to crowd the line, since the deep pass is not a threat. Therefore, the running game has to be more effective. Which leads us to our next topic.
The Power Running Game
We all know that both Keith Burnell and Kevin Jones can run in space. Burnell turned the corner several times on the option, and Jones peeled off 44-yard and 78-yard TD runs that were displays of pure speed (the 78-yarder was called back on a holding penalty that was iffy, to say the least).
But neither player can run between the tackles like Lee Suggs does. You can see the difference at the goal line, where the Hokies have struggled to punch it in at times. They did not struggle on their first two drives, scoring easily inside the ten yard line on short running plays.
But Tech was stopped on a fourth quarter drive in which the Hokies ran four straight running plays inside the WVU 10 yard line, with the last two coming on third and goal and fourth and goal from the 2 and the 1, respectively. Kevin Jones was the tailback on those plays, and the Hokies probably could have scored by pitching it wide to him, but at that point, it was 35-0, and it was time to get the freshman some short-yardage work at the goal line.
Give the 'Eers some credit. Their linebackers and safeties filled the holes well on third and fourth down. But Tech is at fault, too. On the third down play, Jones left the ground instead of staying on his feet and driving through the pile, so when contact was made, his forward momentum stopped quickly. The coaches will point that out to him on the film.
On fourth down, fullback Wayne Briggs demonstrated why he is the backup and Ferguson is the starter. Briggs pulled up and turned sideways as he hit the line, instead of staying squared up and blowing people into the end zone. As a result, no path was cleared for Jones, who did stay on the ground this time but still couldnít drive into the end zone. At 5-10, 244 pounds, Briggs should have lowered the boom on somebody and knocked some people into the end zone. Again, the coaches will see that and point it out to him.
"We just need a little more consistency there," Beamer commented after the game, referring to the fourth-and-goal failure. He uses the word "consistent" all the time, to the point of overusing it, but he's right. He needs his offensive line to be consistent, he needs his fullback to block consistently, and he needs his tailback to keep his feet on the ground, lower his head, and drive his feet consistently. That will produce touchdowns.
The Hokies had 25 rushes for 148 yards in the first half (5.9 yards per carry), but just 76 yards on 31 second half carries (2.45 ypc). Aided by his 44-yard TD, Jones had 6 carries for 59 yards in the first half, but his ten second-half carries netted only 8 yards. In the second half, he was met early and often at the line by WVU defenders, and he couldnít get by them.
Beamer praised Jones's speed and ability, but he added, "I'd like to see him run more into the hole and find where the opening is after he gets there. I think we need to work on that with both backs, as a matter of fact. I think that's what makes Suggs so good, is he's in that hole juking after he gets in the hole, but right now we're kind of looking before we get into the hole and getting caught."
That's about it in a nutshell, straight from the coach's mouth.
Defense Pitches Another Shutout
The defense has pitched their third shutout in the last four games, and a common question these days is whether this unit is better than the '99 defense, which set the standard for Hokie defenses.
The current team is #1 in the country in scoring defense, rushing defense, total defense, and #2 in pass efficiency defense (according to the team defense stats on the USA Today's web site). The 1999 defense finished #1 in scoring defense, #3 in rushing defense and total defense, and #7 in pass efficiency defense.
But the "feel" of the two defenses is very different. In 1999, Corey Moore and John Engelberger hounded opposing quarterbacks relentlessly, piling up 24 sacks between the two of them (17 for Moore, 7 for 'Berger). That style made for many highlight-reel moments. The defense as a whole had 58 regular-season sacks that year.
This year, the sacks started off very slowly (just two in the first two games), and lately have picked up steam. With five sacks on Saturday, the 2001 defense now has 14 sacks for the year (for the record, the '99 defense had 26 sacks through five games). The 2001 D is on pace for about 30-31 sacks, barely half of what the '99 defense had.
I have been of the opinion all year long that this year's defense is not as good as the '99 defense, and I think the biggest reason why is the relative lack of sacks. That has altered my perception of how good the 2001 defense is. But when you start taking a look at some of the other details, the 2001 defense is superior. They already have more shutouts than the '99 defense had (the '99 D only shut out two teams, JMU and Syracuse), and through five games, their major stats are superior: the 2001 defense gives up half as many points (4.8 versus 10.5), half as many rushing yards (39.4 versus 75.9), and almost 75 fewer total yards per game (175.2 versus 247.3).
(Yes, I know, they've played 5 patsies and not a full schedule, but humor me.)
So how is the 2001 defense able to play as well or better than the 1999 defense, despite the much lower sack totals? After all, isn't pressure on the QB the cornerstone of a Tech defense?
The answer? Pass coverage. This year's Tech defense gets better, tighter, harder-hitting pass coverage than the 1999 team did. Anthony Midget and Ike Charlton were good cover corners (good enough for the NFL), but Ronyell Whitaker is one of the best ever, and Larry Austin is gloving up receivers, as well.
Past Tech cornerbacks have been known for playing soft coverage (most notably Loren Johnson and Larry Green) and looking good when a fierce pass rush forced the opposing QB to throw up terrible passes, which they could then intercept. But this year, there are many occasions where the cornerbacks and other DB's have helped the defensive line get coverage sacks by sticking close with opposing receivers.
So the 2001 Hokies may not have a Corey Moore, but the 1995, 1998, and 1999 Hokie defenses didn't have the cover corners that this year's team has. Even backups DeAngelo Hall and Garnell Wilds play tight coverage.
The 2001 Hokies have 12 interceptions through 5 games. That's tied for first in the country with Washington State, and it puts the Hokies on pace for 26 picks, if they can keep it up. That would be 3 more than the interception-happy 1998 defense had (they totaled 23), and the 2001 defense already has two more interceptions than the 1999 defense had all season. As great as it was, the 1999 defense only had 10 picks.
By the way, if you're keeping score at home, the Tech record for interceptions in a season is 27, set by the 1967 team.
On another topic, you'll hear a lot about the defensive line this week (I could tell the beat media were concentrating on that in post-game interviews), so let's talk about that for a second. The interesting thing about the current defensive line is how varied their skills are, how much each player brings to the table Ö and how little distinction defensive line coach Charley Wiles draws between the #1 and #2 units. As far as he's concerned, the two units are interchangeable.
"We try to get that other group in the game early enough that they can get a little lube-up going," the colorful Wiles said of his backup DL in post-game interviews, "and be a part of it and get a feel for what's going on. When we get into that 10, 12, 13-play drive situation, we can roll in some fresh guys, and there's not a lot of dropoff."
And if you see the backup DL get pulled and the starting DL reinserted, that doesn't really mean anything. In Saturday's game, for instance, in WVU's last drive of the first half, the 'Eers put together two first downs in a row, and Wiles pulled his backups and put his starters back in. I specifically asked him about that decision, and whether it was an issue of performance or the number of plays the backups had put in.
"It's the number of plays," Wiles said. "West Virginia's got a fast-break offense, and we wanted to keep rotating guys, and keep 'em fresh." Indeed, if you watch the tape, you can see that defensive tackles Dan Wilkinson and Derrius Monroe were dragging on the last play before Wiles pulled them out and reinserted the starters. Three plays later, the drive was over.
Only time will tell if the 2001 defense is as good as the 1999 defense, and the coaches will say that whenever the question is asked. But when asked to compare the 1999 DL and the 2001 DL, Wiles's answer is a little more definitive. "We don't have a Corey Moore in there, a guy who can just take a game over. But I think maybe across the board, we're very similar to that '99 front."
Miscellaneous Notes
Whip linebacker T.J. Jackson is playing well in place of the injured Deon Provitt. I expected little to no dropoff from Provitt to Jackson, because they were in such a close competition for the Whip linebacker spot in the spring and early fall. On Saturday, T.J. was around the ball, hit hard, and finished well when tackling.
If you've got a tape, go back to Tech's second TD, a 3-yard run by Ferguson that made it 14-0. Watch center Steve DeMasi blow WVU nose guard Sedrick Lewis into the end zone, clearing the way for Ferguson. Jim Pyne would be proud.
The Hokies blitzed very little on Saturday, accomplishing most of their best defensive work with four rushing linemen and linebackers in coverage.
Jake Houseright's diving stop of a pass on a 3rd and 3 early in the second quarter made it appear as if his injured knee didn't slow him down at all. He noted in post-game interviews that it didn't slow him down. "I get out there and forget all about it," he said.
ESPN2 sideline reporter Holly Rowe reported early in the third quarter that Beamer told his team to "quit being so sloppy" during half time. After recording four penalties, two interceptions, and a fumble in the first half, Tech cut it down to just two penalties and one fumble in the second half.
A point to remember: On a Vinnie Burns punt that was downed at the one-foot line, Tech's Eric Green was standing in the end zone, and he jumped out, caught the ball, and landed on the one-foot line. The ball was marked there, and WVU took over possession. That demonstrates that in college football, you can go in the end zone and come back out to down a punt.
Noel runs the option well. He pitches early when he needs to, keeps it when it's open, and knows where the first-down marker is.
While I respect WVU Coach Rich Rodriguez's willingness to take the not-always-easy head coaching job at his alma mater, he needs to get a grip and pace himself. His late-game tirade on the sidelines was a little too intense for the tail-end of a 35-point blowout. It left me scratching my head and wondering what daily life is like at WVU, with the obviously intense Rodriguez and the legendarily intense Phil Elmassian as defensive coordinator. I'll bet some practices are crazy at WVU.

Next Up: Boston College
The Eagles bring a 4-1 record (2-0 in the Big East) to Blacksburg for a 6:30 game on ESPN2. Boston College has William Green, the fifth-leading rusher in the country (142 yards per game) and leading rusher in the Big East, as its marquee player. BC has the third-ranked offense and third-ranked defense in the league. The Hokies have won the last five games in this series, and six of the last seven.
I'll return later this week with a preview.