TSL Extra
Defensive Player
of the Game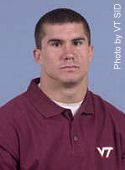 #5 Kevin McCadam
ROV, 6-1, 215, Sr.
Score: 32 points

Click here for an
explanation of the
award and how the
scoring is done

With an interception,
two passes defensed,
half a sack,
five solo tackles and
two assisted tackles,
McCadam scored 32
points in the TSL
Extra defensive point
system to easily earn
TSL Extra Defensive
Player of the Week
honors.
2nd: David Pugh
with 22.4 points.

The TSL Extra
defensive point system
was created in TSLX
issue #5. For a
complete explanation,
including rankings of
the Hokie defenders
from the 2000
season, see TSL
Extra issue #5.

Click here to
subscribe to the TSLX!
Your subscription
includes access to
all of the back issues!
Game Analysis: Western Michigan

by Will Stewart, TechSideline.com, 9/10/01
Click here for TSL's Game Recap
It wasn't a day jam-packed with sacks, interceptions, and defensive touchdowns, but when you dig down into the statistics, this VT victory was as dominating a defensive performance as you'll find.
The offense, on the other hand, was very workmanlike and has a lot of room to improve. Keith Burnell and Kevin Jones filled in well, but the team missed Lee Suggs's power running inside the ten yard line, and Grant Noel wasn't nearly as sharp with his throws as he was in week 1 against UConn.
Lastly, the Hokies demonstrated one phase of the game that sets them apart from teams at Western Michigan's level: special teams. Tech blocked a punt early to get things rolling and swarmed over the field goal holder on a bad snap in WMU's only decent scoring opportunity of the day.
For the Broncos, it was a day of disappointment. Western Michigan is supposedly a good team, but on this day, between the stifling Hokie D, their own ineptness, and a complete inability to make plays, WMU left Blacksburg with their tails between their legs, the victims of a sound thrashing.
I knew Miami of Ohio. Miami of Ohio was my friend. And you, sir, are no Miami of Ohio.
There was much concern before the game that centered around Western Michigan's status as a good team from a mid-level conference that the Hokies might take lightly and fall prey to.
In years past, Virginia Tech has been guilty of occasionally waltzing into Lane Stadium thinking they had a team beaten when they didn't. The most famous examples are, of course (repeat after me), Cincinnati '95, Miami of Ohio '97, and Temple '98.
The Cincinnati experience (a shocking 16-0 trouncing in the rain) did not save the Hokies from Miami of Ohio in 1997. The Miami of Ohio game (a 24-17 embarrassment) did not save the Hokies from Temple in 1998.
But Temple '98 appears to have saved the Hokies from any upsets of that type for the foreseeable future. For now, the Hokies (and their fans) respect every team enough not to take them lightly and to put forth the necessary effort to beat them.
Sure, it helps that Virginia Tech is a much better football team than they were as recently as 1998. It also helps that they now set their sights much higher than they did back then, namely on a national championship. Once you start concentrating on winning a national championship, that brings a special kind of focus to each and every game than the goal of just "getting to a bowl" does. With no margin for error, the team concentrates harder and gets the job done.
Point being, Virginia Tech did not regard Western Michigan as a lightweight. The Hokies treated them as they would Clemson or West Virginia or Pittsburgh, and that led to a full 60 minutes of effort.
One day, perhaps the memory of Temple will wear off and the Hokies will saunter into Lane Stadium against an unknown, lightly regarded opponent, and choke the game away. But for now, each team gets Tech's full attention. As long as they keep that up, the Hokies will be all right.
Defensive Analysis
The overall defensive effort in this game was better than it was in the Connecticut game. For starters, the Hokies held WMU to fewer points than UConn (0, compared to 10), and fewer yards as well (166, compared to 184). They also pressured WMU's quarterback a little better than they did UConn's QB, and the Hokies definitely had more defensive backs around the ball than they did against UConn. The number of interceptions was the same in each game (one), but in this game, Tech nearly picked off at least three other passes (and should have had at least two of them).
At first glance, Virginia Tech's lack of sacks the first few games has been alarming, but like UConn, Western Michigan rolled their quarterback out to get him away from pressure. And like they did against UConn, the Hokies pounded the quarterback over and over after the pass was released (13 QB hurries in this game, 17 in the UConn game).
But in my opinion, Jeff Welsh, the Western Michigan quarterback, lost his composure more than Keron Henry, the UConn quarterback. Welsh looked more jittery than Henry, and he threw more bad passes. The Hokies picked off one tipped pass when the WMU receiver bobbled the ball into the air, but Welsh also laid at least three more passes right into the hands of Hokie defenders. Willie Pile, Kevin McCadam, and Ben Taylor all had good shots at interceptions, Pile in particular, that they dropped.
So while at first glance, the Hokie defensive performance appears to be lacking in two respects -- sacks and interceptions -- it wasn't, really. Tech was getting plenty of pressure on Welsh and backup Ryan Harris, tallying 13 hurries in 31 pass attempts. And as noted above, the Hokies nearly had a 3- or 4-interception game.
The lack of sacks can be attributed to two things: (1) Tech's defensive ends still don't bring the constant heat a la Corey Moore or Cornell Brown (2) UConn and WMU have both taken short drops, moved the QB's around, and thrown short patterns. WMU in particular threw a ton of slant patterns and rarely if ever ventured more than fifteen years downfield with the passing game.
To my recollection, Western Michigan didn't throw a single fly pattern all game long. The Broncos averaged less than 9 yards a reception (15 catches for 132 yards) versus 15 yards per catch in their opener against Illinois State (31 catches for 462 yards).
The Hokies brought the heat, and the Tech defensive backs were all over the passing lanes, resulting in no room for Western Michigan to work. This is where WMU's total lack of a running game hurts them. Even with a few nice runs where they surprised the Hokies, WMU only rushed for 34 yards on 23 carries, and their running game provided no relief for their passing game.
Out of 14 Western Michigan possessions, 7 of them were 3-and-outs. Only two of them went over 5 plays. After their first possession went 32 yards in 8 plays, the Broncos had ten straight drives of 5 plays or less. Western Michigan only had 53 yards in the second half.
Again, this was a dominating performance, it just didn't have the sacks and interceptions that stand out in your mind.
Field Position, Time of Possession, and Penalties
The story of the first half was field position. Tech had it, and Western Michigan didn't. The Broncos' average starting spot was their own 16 yard line, and for the Hokies, it was the 46 yard line -- Western Michigan's 46 yard line.
It was that huge field position advantage that helped Tech build a 17-0 half time lead, but in the second half, the story was time of possession. The Hokies went to the ground in the second half and held the ball for 19:44 to Western Michigan's 10:16, nearly a 2-to-1 margin.
But perhaps the biggest disparity between the two teams was penalties. After the Hokies opened the festivities with a false start, Western Michigan had the next thirteen penalties. The Hokies committed three more penalties after the score had reached 31-0, making the final talley 13 penalties for 103 yards for WMU, and just 4 penalties for 25 yards for Tech.
For a team laden with juniors and seniors that were supposedly not intimidated by road crowds, Western Michigan committed a staggering number of penalties. Out of the 13 penalties for Western Michigan, 8 were of the "unforced" variety: 3 delay of game, 3 false starts, one illegal formation, and one substitution infraction. 4 of the remaining 5 were dumb penalties in the heat of battle: roughing the passer, tripping, unsportsmanlike conduct, and a personal foul. Only one lone illegal blocking penalty could be filed as an execution mistake instead of a mental mistake (I know, in the end, they're all mental mistakes, but you know what I mean).
Offensive Analysis
The Tech offense was solid, but not spectacular in any way. There were no exceptional passes, no great catches, and just a few above-average running plays. The Hokies simply ground it out over an inferior team.
Grant Noel's passing was slightly off all day long. The precision he showed against Connecticut wasn't there, despite the fact that WMU didn't bring much more pressure than Connecticut did. Many of Noel's passes were behind the receivers, and on several of them, he and the receivers miscommunicated.
For the second game in a row, the deep passing game was non-existent for the Hokies. Noel only attempted one long pass that I recall, a late-second-quarter toss downfield to Shawn Witten that Noel threw to one side as Witten broke to the other. The ball fell harmlessly to the turf.
Tech's unwillingness to throw downfield to Andre Davis is obvious, and it brings up some questions as to Davis's health. Davis crawled off the field after one series against Connecticut, and he looks tentative on his punt returns, as if he is searching for a place to fall down.
As Tech gets deeper and deeper into the schedule, they'll need the long passing game, but they're not working on it. Instead, offensive coordinator Rickey Bustle has been working on the short passing game, throwing flanker screens, passes to the tight end, and a ton of passes to backs out of the backfield. The Hokies have long needed a more effective short passing game, and you can see the new plays and how hard they're working at developing them. But in the meantime, the famous Rickey Bustle affair with the long bomb has been put on hold, so that's something to keep an eye on.
Noel's erratic passing performances from game one to game two reflect his passing in practice: up one day or week, down the next. He only has two full games under his belt and should get better and more consistent as the year goes on.
One thing Noel has shown is a grasp of the offense. He gets the ball snapped on time, distributes it around, and doesn't make dumb mistakes -- not so far, anyway. Compare his performance with the high-risk, high-reward play of Bryan Randall (who will follow a great run with an awful fumble), and you can see the difference between a redshirt junior and a true freshman.
I thought Noel's best plays were two rushes on Tech's first drive. First he ran the option to perfection and picked up 11 yards, and later he scrambled from the pocket on third and long and stretched for a first down. In the third quarter, he audibled into a Keith Burnell run off of right guard that picked up good yardage, and he executed a goal line quarterback-sneak perfectly for a 1-yard touchdown.
Special Teams Analysis
The Tech special teams were improved over week 1. Jon Mollerup had four kickoffs for touchbacks, and his other two went to the 1-yard line and 3-yard line. Western Michigan only averaged 17.5 yards per return on the two kicks that they brought back, an improvement over the UConn performance. Mollerup pulled the opening kickoff against Connecticut out of bounds, but since then, he has been very solid.
Alas, Carter Warley has not. After missing two field goals against UConn, Warley missed a 39-yarder in this game where the snap and hold were clean. To this point, Warley's 2-of-5 performance on field goals does not have Tech Coach Frank Beamer worried, but Beamer said on Monday's Big East Conference call that he will meet with Warley soon to talk things over. Warley has a bad back (which has led to Mollerup kicking off), and Beamer only has Warley practice every other day. He may change that, pending the outcome of his talks with Warley (per hokiesportsinfo.com).
Miscellaneous Notes
I thought Doug Easlick showed great mobility and speed on his 22-yard shovel pass TD in the third quarter. He hit the hole quickly and cut back to the open spot across the field.


The Hokies were stopped inside the ten yard line on their first possession, including a fourth and goal from the one. It's easy to blame the stall on Suggs's absence or poor Hokie blocking, but the WMU defense made some great plays. On second and goal from the four, a WMU linebacker fought through two blocks to make the stop, and on fourth and goal from the one, linebacker Bryan Lape slashed through a gap left by the pulling Jake Grove to put a hit on Burnell that stopped him cold. Would Suggs have scored? We'll never know.


Western Michigan's defensive performance definitely took a downturn when defensive end Anthony Allsbury (#37) was leg-whipped and had to sit out for a while. The Broncos were not the same after that, even after Allsbury came back in.


Noel was 7-17 in the first half, and 6-8 in the second half, after the Hokies went almost exclusively with screens and short, easy passes.


After giving up 28 sacks last year (about 2.5 per game), the Hokies have only given up 2 so far this year. But tougher opponents lie ahead.


It was obvious that Kevin Jones is not close to 100 percent. He has good range of motion, but his bruised thigh was tender in this game, and WMU looked like they were gunning for it. Jones limped off after at least one series, but he still managed 75 yards on 10 carries.
A Note About the Defensive Player of the Game
Due to a (now corrected) software bug in Virginia Tech's on-line stats, last week's TSL Extra Defensive Player of the Week was incorrect. DeAngelo Hall was originally named for the honor, but it actually goes to Ben Taylor. Along with his tackle and tackle-for-loss stats, Taylor had 6 QB hurries, which were not included in the preliminary statistics. Once they were added in, Taylor had 28 points, pulling well ahead of Hall's 17 points for the weekly honor.
To see the details of Taylor's performance last week, click here.
Looking Forward
Tech will take a week off, watch some film and try to get better. On September 22nd, the Hokies will travel to Rutgers for a noon game.
It's obvious at this point that the Hokies have a solid, ball-control offense, but it's questionable if they can make the plays on offense that are necessary to pull out a close win, which will eventually be required. But Tech is right on schedule, and they have a couple more games to keep working out the kinks. This is no insult to Rutgers and Central Florida, but Tech should be able to dispatch of both teams and keep greasing the wheels for the meat of the Big East schedule.
I'll return in a week and a half with a Rutgers preview.