Fold it down the
middle -- VT on one side,
UConn on the other!
Print out several
dozen and take them
to the game!

(Note: the roster card
is in PDF format.
You'll need Adobe
Acrobat Reader.
Click below.)


UConn Links

Official Site

The Boneyard
Boneyard MB
Conn. Post
Stamford Advocate
USA Today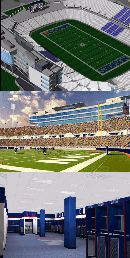 Click here to see
renderings of
Rentschler Field,
UConn's new football
stadium (scheduled
for completion in 2003)

Game Preview:
Connecticut at Virginia Tech
by Will Stewart, TechSideline.com, 8/30/01
Click here for Blacksburg Weather

Connecticut at Virginia Tech
Saturday, September 1st, 2001
12:00 noon, ESPN+ and Comcast SportsNet

Saturday afternoon, Virginia Tech and Connecticut kick it off in a game that would give ESPN's Charlie Steiner fits:

"From Blacksburg, Virginia, it's the Huskies against the Huskies … er, the Hokies against the Hokies. Oh, heck, it's turkeys versus dogs (hic)."

All kidding aside, this matchup promises to be little more than a glorified scrimmage for the Hokies. That's not an insult to UConn; it's just a fact.

The Huskies will probably be good, in time. They have a well-funded athletic department and a penchant for doing things right. National championships in men's basketball, women's basketball, men's soccer, and field hockey, as well as a women's soccer team that enters 2001 ranked in the top 10, attest to UConn's abilities to succeed on the field of play. They are a class institution that backed the Hokies' bid to enter the Big East for all sports from day one.

Big East member schools should be excited that Temple's underachieving football program is being given the boot and that UConn's program, backed by their general athletic excellence, is taking Temple's place in Big East football in 2005. The Huskies are moving into a brand new 40,000 seat stadium at

Rentschler Field in August of 2003 (see right). With Temple's ouster scheduled for the end of the 2001 season (the 2002 season at the latest), that has led many to suspect that UConn will enter the Big East for football in 2003. But at this point in time, all parties involved say 2005 is still the date.

But none of that will do the Huskies any good Saturday. Connecticut is ranked 113 out of 117 Division 1-A teams by Athlon, 116 out of 116 by The Sporting News (TSN's rankings don't include D1-A newcomer Troy State), and dead last by Sports Illustrated, too (117 out of 117).

And that was before senior QB Ryan Tracey quit the team recently. In the wake of his departure, UConn has nothing but redshirt freshmen and true freshmen from which to pick. Redshirt freshman Keron Henry won the honors and will be under center on Saturday.

This one figures to get ugly early and stay ugly. And before you say, "Temple, 1998," rest assured that the Owls had some talent on that team. Connecticut isn't there yet and will get overpowered by the Hokies, particularly by the Hokie defense.

Let's take a look.

UConn Fast Facts: The Huskies enter their second season in Division 1-A. Prior to the year 2000, they were Division 1-AA. Last year, UConn went 3-8 with victories over 1-A Buffalo and Akron. This year, UConn plays Big East teams Tech, Temple, and Rutgers.

Head Coach: Randy Edsall enters his third season as the Huskies' head coach, taking over in 1999 for Skip Holtz, who joined his father Lou at South Carolina. Edsall's coaching record at UConn is 7-15. He is recognized as one of the top recruiters in the country (according to Athlon), and UConn's talent is on the rise.

Depth Chart: The Huskies return 5 starters on offense and 5 on defense. Only 18 of the 45 players listed on the Huskies' two deep are juniors or seniors. Connecticut will start five redshirt freshmen on the offense and two on defense.

Best Offensive Players: running back Taber Small (#38) led the Huskies last year with 560 yards and 8 TD's. Henry is a running quarterback, but little else is known about him.

Best Defensive Players: former safety Jamal Lundy (#21), a junior who led the team in tackles last season, moves closer to the line to play UConn's "Husky" outside linebacker spot, probably similar to the Whip linebacker in VT's scheme. UConn's best DB is junior Roy Hopkins (#7), a tough leader who missed all of last season redshirting after he injured his knee in the season opener.

Special Teams: UConn returns sophomore punter Adam Coles (#6), who averaged 40.5 yards per kick last season, and junior PK Geoff Heyl (#93), who went 4-5 from 40-49 yards last season.

The Lowdown

The Hokies figure to eat UConn for lunch, with the line on the game currently at 46 points.

Connecticut's biggest problem will be dealing with Tech's defense. The Huskies start a trio of redshirt freshmen on their offensive line at center, right guard, and right tackle, so the Hokies should get a good push up the middle and on the right. When they start getting pressure on the redshirt freshman QB Henry, it could be nasty for Henry, unless he is an exceptional quarterback. He has not taken a snap in Division 1-A football, and feeling the heat from VT's defensive ends and tackles David Pugh and Chad Beasley is no way to start out a career.

Defensively, UConn's D-line averages about 260 pounds per man and should provide some resistance, at least early in the game, for the Hokie offensive line to work against and try to gel. Their linebackers are undersized and vulnerable to being overpowered, but they have good lateral movement.

It's hard to say how much passing Tech will do in this game. They should be able to overpower UConn with the running game, but on the other hand, Tech QB's Grant Noel and Bryan Randall will need the work. Look for Noel to throw 12-15 times, and Randall 8-10 times, which is more passes than Tech would usually throw, especially in a mismatch like this.

One major concern for the Hokies, much as it was with the 1999 JMU game, will be avoiding injuries. Tech was not so fortunate back then, as Michael Vick suffered a leg injury that would plague him for the entire season.

Prediction: VT 49, Connecticut 3 (it's merely a coincidence that the prediction matches the line on the game). This one will be on caliber with the aforementioned JMU game. The Hokies should have no problem, should get in some good work for the inexperienced players, and a good time should be had by all.