TSL Extra
Defensive Player
of the Game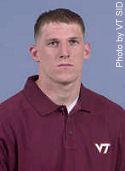 #40 Ben Taylor
LB, 6-2, 235, Sr.
Score: 28 points

Click here for an
explanation of the
award and how the
scoring is done

With 6 QB hurries,
4 solo tackles and
3 assisted tackles,
including 2 tackles
for loss, LB Ben
Ben Taylor scored 28
points in the TSL
Extra defensive point
system to earn
TSL Extra Defensive
Player of the Week
honors.
2nd: DeAngelo Hall
with 17 points.

The TSL Extra
defensive point system
was created in TSLX
issue #5. For a
complete explanation,
including rankings of
the Hokie defenders
from the 2000
season, see TSL
Extra issue #5.

Click here to
subscribe to the TSLX!
Your subscription
includes access to
all of the back issues!
Game Analysis: Connecticut

by Will Stewart, TechSideline.com, 9/3/01
In the 1995 season opener, an impressive debut by new starting quarterback Jim Druckenmiller was spoiled by a stinging loss to Boston College. In this game, an impressive debut by new starting QB Grant Noel was also spoiled by a stinging loss: Lee Suggs to a knee injury.
The Hokie football team was able to overcome the 1995 loss to Boston College. Whether or not they can overcome the loss of Lee Suggs remains to be seen.
For Noel and Suggs, Saturday's romp over UConn ended at two opposite ends of the spectrum. For Noel, it ended in triumph and vindication; for Suggs, it ended in injury and disappointment. Suggs was expected to carry this team offensively, but now that role has fallen to Noel and star receiver Andre Davis.
Just one game into the season, Hokie fans find that their perspective has been permanently shifted, not just by Noel's performance and Suggs's injury, but by a defensive performance that was effective but disappointing in some ways.
The Quarterbacks
The shift in attitude regarding Grant Noel from post-spring-game head-shaking to post-UConn-game hand-shaking is stunning. In the spring game, Noel was wholly unimpressive, throwing the ball poorly and showing a general lack of ability to make plays.
But in the Connecticut game, he was completely in control, running the offense smoothly, delivering the ball accurately, and making good decisions.
Granted (pardon the pun), there was one major difference between the spring game and the UConn game, namely, the defenses. Noel was under pressure in the spring game and was not under pressure in this game. His outing against Connecticut amounted to little more than a passing drill for the large majority of the game, with an unpressured Noel throwing to uncovered receivers.
Still, his accuracy and decision-making were commendable. He ended up 16-20 for 267 yards, 3 TD's, and no interceptions. He made the right reads and put the ball on target all day long, sometimes impressively so.
Under Noel's direction (and that of Bryan Randall, who played half of the third quarter and all of the fourth), Virginia Tech amassed 606 yards of offense, their fifth-best yardage total ever. Only three other quarterbacks have led Tech teams to higher offensive totals: Maurice DeShazo (675 yards against Pitt and 641 yards against Maryland in 1993), Jim Druckenmiller (638 yards against Akron in 1995), and Mark Cox (617 yards against William and Mary in 1983).
Noel's 267 yards are the second best passing performance by a Tech QB since the start of the 1997 season. Only Michael Vick (290 yards against Boston College in 1999) had a better passing day yardage-wise in the past four seasons than Noel did on Saturday. And he left the game midway through the third quarter.
As for as accuracy, Noel's 80% performance brings to mind Vick's 1999 games against Virginia (7-9), Rutgers (11-12), and BC (11-13), as well as Al Clark's 1997 game against Miami (10-12).
Of Noel's four incompletions, only one was a truly bad pass: a third-quarter incompletion that he threw into coverage, far behind the receiver. His other three incompletions were a throwaway out of bounds, a shovel-pass to Jarrett Ferguson, and a slant route to Shawn Witten that was actually a good pass. Noel was under pressure and got rid of the ball, and if Witten had turned earlier and looked for it, it would have been a completion.
Noel's best pass of the day, I thought, was his 19-yard corner route touchdown to Andre Davis. Noel stepped up into the pocket, threw the ball as Davis was making his cut, and dropped it softly into Davis's hands in the end zone.
Noel threw from the pocket, he threw rolling out left, and he threw rolling out right. He threw to the receivers, the fullback (three times), and the tight end. He did it all. The only caveats worth noting were that he was rarely under pressure, and his out-cut passes were sometimes very slightly late. This was not a problem against Connecticut's defensive backs, but against a set of defensive backs like Miami's, Noel will need to deliver the ball a little earlier to minimize the threat of an interception.
All in all, it was a very good performance by Noel, and a great beginning to his career as a starter. And there's something to be said for a QB who does not throw the ball a hundred miles an hour.
It was interesting to contrast Noel's performance with that of backup Bryan Randall. Randall did a good job for a true freshman, going 5-10 for 56 yards and running for another 30 yards on 6 carries. But his lack of experience showed. He tended to tuck the ball and run earlier. This is not necessarily bad, because he's a good runner, and running isn't much of an option for Noel, so Randall is more likely to do it.
Randall's lack of polish showed on three passes: one that he rifled into the outstretched hands of a defender, who batted it down; another that he forced into coverage which was knocked down; and a third one he didn't even throw. Early in the fourth quarter, from the UConn 12, Randall rolled right and ran to the two yard line. Early in the play, he had fullback Wayne Briggs wide open in the flat at the 7 yard line, and he ran the ball instead. It was a pass that should have been thrown.
Overall, though, Randall played well, and of course, he was playing with the second and third-stringers against UConn's starting defense.
The Defense
Early in the game, the Tech defense was not sharp. They gave up 121 yards on Connecticut's first 21 plays. But from that point on, they settled down, giving up just 63 yards on the next 35 offensive plays for Connecticut.
Ronyell Whitaker in particular was beaten badly a few times early in the game, and he also committed an interference penalty. On one play, Connecticut quarterback Keron Henry avoided pressure by rolling out right, and UConn wide receiver Cliff Hill (#3) broke off his pattern and turned upfield, catching Whitaker by surprise and resulting in a 44-yard gain on third and 13.
Later in that same drive, Wes Timko (#82) got behind Whitaker on a sideline route to the end zone, and Whitaker grabbed and slapped at him, earning UConn a first down at the Tech 15 due to interference on Whitaker.
Henry followed up that play with a play-action bootleg right that fooled the VT defensive end and Whip linebacker, resulting in a 15-yard jaunt to the end zone by Henry. It was UConn's only touchdown and Tech's worst defensive series of the day.
One play that I found interesting was a fourth and 3 that UConn faced at the Tech 47 with four minutes to go in the third quarter. Virginia Tech stacked the line, with only safety Willie Pile playing off the line, and Connecticut sent a man in motion from their left to the right. When the ball was snapped, the man in motion went to the flat, the right-side flanker crossed into the middle of the field, and the tight end, Rashad Drayton, went straight up field.
This resulted in three players in the pattern on that side of the field. Pile ignored the tight end, who ran by him, and Pile joined Whip Deon Provitt in double-teaming the motion man in the flat. Whitaker covered the flanker, and Drayton, the tight end, ran down the middle of the field unguarded. Henry threw the ball to Drayton's left, Drayton turned right, and the ball fell behind him on the turf, incomplete. He could have crawled into the end zone had they completed the pass.
The question is, then, who blew the coverage? Between Pile and Provitt, who was supposed to take the tight end, and who was supposed to take the motion receiver? It's hard to tell in watching the tape, but the coaches know, and either Pile or Provitt will get straightened out on it.
Looking at the defensive statistics, one thing jumps out at you: 0 sacks were recorded by the Hokie defense. David Pugh called it "freaky," and it's not as if Henry wasn't pressured. The Hokie D simply didn't sack him, but they did hit him a lot as he released the ball (which makes the 0 "QB Hurries" shown on the hokiesportsinfo.com stats very questionable -- Henry was indeed "hurried" many times, and Ben Taylor hit him at least twice as he got a pass off).
I think the lack of sacks was due primarily to four factors:
Tech didn't blitz much
Connecticut did a decent job protecting the QB
The UConn coaches designed a game plan that rolled the mobile Henry out often, away from the pass rush
Henry was mobile, poised and smart, getting rid of the ball often right before he was hit
The Hokie defense was not only expected to dominate UConn, but to dominate them with style, forcing turnovers and racking up sacks and tackles behind the line. As it was, they did dominate, once the first quarter was over. But they had zero sacks, just three tackles for loss (for 6 yards total), didn't force any fumbles, and only had one interception. Statistically, they controlled UConn, but the Hokies earned no style points, other than DeAngelo Hall's leaping interception.
From this point on, Tech will have to get more pressure with the defensive line and turn up the emotion, which was hard to do in this mismatch.
Special Teams
The Hokie special teams put in an average days work -- average for someone else. By Tech standards, it was mediocre.
Jon Mollerup's first kickoff sailed well out of bounds, and he was inconsistent after that. His next one went ten yards deep into the end zone, and then he landed them anywhere from the goal line to the ten yard line. He got good height on them, but UConn averaged nearly 30 yards per kickoff return (6 returns for 148 yards), which is not acceptable to Frank Beamer. It was far above last year's 16.6 kickoff return average for Tech's opposition.
Carter Warley missed a 40-yard field goal and a 47-yard field goal, before making a 39-yarder. The 40-yarder wasn't a clean snap and hold, so that may have affected the kick. The TV replay didn't show the snap and hold on the 47-yarder, which Warley barely missed wide left. Warley has already missed as many field goals as he missed all of last year, when he went 7-9.
Vinnie Burns punted a 52-yarder and a 32-yarder. The 52-yarder was a nice spiral that was probably a little lower than Beamer likes them (it was returned 10 yards), and the 32-yarder was the result of a bad snap that bounced in front of him. He did a good job fielding the snap and getting the kick off but wasn't able to do much with it.
Thoughts on Connecticut
I had a thought Saturday morning about Connecticut's ranking as the worst team in Division 1-A by both the Sporting News and Sports Illustrated. It was noted that Connecticut won two games last year against 1-A competition, and I found myself thinking, "How can they be the worst D1-A team, if they're capable of beating other D1-A teams?"
After watching them play a full game against the Hokies, I have a stronger conviction: there's no way this is the worst team in Division 1-A.
The primary reason is Keron Henry. Henry was impressive for a redshirt freshman, showing poise and control in the pocket, despite being hit all day long. He made very few ill-advised passes and showed a knack for getting away from the rush. Henry is an intelligent young man with a bright future, and any team with a QB that good is not the worst team in Division 1-A.
They say that Connecticut's talent is on the rise, and I think the performance of their redshirt freshmen in this game proves that. They started three redshirt freshmen on the offensive line, and they did pretty well. Henry was good, as noted, and so was defensive back Justin Perkins (#2).
Beyond that, junior CB Roy Hopkins (#7) was a player who stood out. Hopkins played tough and played well, and it was he who made a diving, touchdown-saving tackle on Kevin Jones's one long run, a 23-yarder that Jones almost broke for a TD.
But where Connecticut really needs to upgrade their talent is along the defensive line and at wide receiver. Henry's wide receivers let him down on several occasions and showed a general lack of ability to make plays.
UConn has a little talent, they're well-coached, and in this game, didn't make mistakes. A ranking of #117 (out of 117 D1-A teams) doesn't do them justice. I think this season will bear that out.
Looking Forward
The loss of Suggs is disheartening. Whereas the loss of some players is a tactical loss, Suggs's season-ending injury goes deeper than what he does on the field. Tech fans and players genuinely like Suggs, who was the heart of the team. He must now stand on the sidelines and be that heart, with the job of replacing him on the field going to Keith Burnell and Kevin Jones.
The mantle of offensive leadership now falls on the shoulders of Grant Noel and Andre Davis. They are the players who must now make the plays.
The defense is going to have to step up next week against Western Michigan and set the tone for the rest of the season. Western Michigan's quarterback, senior Jeff Welsh, threw for 330 yards and 5 TD's in their 48-7 opening-game win over Division 1-AA power Illinois State.
Despite the "weak schedule" bashing of the Hokies, the Broncos will present a much stiffer challenge than Connecticut did and will be a good opponent. They'll come into Lane Stadium with their "We're a MAC team, and we're going to surprise you," attitude, but they will run into a Tech team that respects them and is eager for the challenge.
Much like we learned a lot about the team from this Connecticut game, we'll learn more this weekend against Western Michigan. See you then.