TSL Extra
Defensive Player
of the Game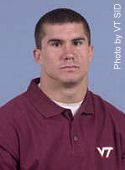 #5 Kevin McCadam
ROV, 6-1, 215, Sr.
Score: 46.9 points

Click here for an
explanation of the
award and how the
scoring is done

With an interception
return 69 yards for a TD,
one pass defensed,
three solo tackles and
one assisted tackle,
McCadam scored a
season-high 46.9
points in the TSL
Extra defensive point
system to easily earn
TSL Extra Defensive
Player of the Week
honors.
2nd: Willie Pile
with 24 points.

The TSL Extra
defensive point system
was created in TSLX
issue #5. For a
complete explanation,
including rankings of
the Hokie defenders
from the 2000
season, see TSL
Extra issue #5.

Click here to
subscribe to the TSLX!
Your subscription
includes access to
all of the back issues!
Game Analysis: UCF

by Will Stewart, TechSideline.com, 10/1/01
Click here for TSL's Game Recap
On a sunny September day in Lane Stadium, the Hokies sputtered offensively at times, but in the end they flexed their defensive and special teams muscle to win easily.
Central Florida (which actually insists on being referred to as "UCF" and not Central Florida, so we'll abide by that for the rest of this article) proved to be very gracious guests, helping out the Hokies with loads of mistakes from their players and coaches that eased Tech's path to victory.
Like prior games this year, this one was a mixed bag for the Hokies, who showed some rough edges. Still, it was a blowout win over an opponent that should have been, and seemed to want to be, blown out.
Before beginning, we will declare this a "Grant-Noel-Analysis-Free" game breakdown. Noel gave the doubters much fodder with some poorly thrown passes in this game, but I think at this point that any further critique of Grant's ability at the quarterback position would simply be covering already well-trodden ground. He remains a solid field general who hits the short stuff well and doesn't make mistakes (although he did fumble twice), but he hasn't shown any proficiency with the deep pass to the wideouts.
As Chief Wiggum in The Simpsons says, "Move along, folks, nothing to see here." In other words, there was nothing new to see or say with regards to Grant Noel in this game.
Having said that, let's take a look at the Tech running game (in particular Kevin Jones), the Tech defensive line, Tech special teams, and Central Florida's general ineptitude in this game.
The Tech Running Game
Every week, it becomes a little more apparent that this Tech offense is relatively weak running the ball between the tackles. Keith Burnell and Kevin Jones are not as good running through the interior as Lee Suggs is or Shyrone Stith was. You wouldn't expect them to be, given that they don't have the experience that Suggs and Stith had.
Nor do they have the offensive line of their predecessors. This line will be very good, in time (provided they find a good replacement for Steve DeMasi when he finishes his career), but they're not a well-oiled unit right now.
The only part of this offense that is both experienced and adept at running up the middle is the fullback, Jarrett Ferguson. And even he misfires occasionally, as he did on a goal line rush in the second quarter. He took aim on a linebacker on a run up the middle and then flat missed him, leaving Keith Burnell to get pancaked in the backfield (my apologies for not noting the quarter, time, etc. -- I was so stunned by what I saw that I forgot to write it down).
You can tell that Tech offensive coordinator Rickey Bustle trusts Keith Burnell in short yardage situations a little more than he trusts Kevin Jones at this point. On the third-quarter drive that put the Hokies up 29-14, Jones was in the game, but he was pulled briefly so Burnell could convert a 4th-and-1 that the Hokies faced on UCF's 16-yard line. After Burnell got the first down, Jones was reinserted.
But at the same time, you can see that Jones shows more promise as a power runner than Burnell shows. For the first time this season, the solidly-built Jones broke a lot of tackles on his runs, something that most freshman can only dream about doing at the collegiate level. As a redshirt freshman, for example, Suggs was easy to tackle, and as far back as my memory goes, young running backs at Tech have not had the ability to break tackles that Jones is showing.
Neither Jones nor Burnell consistently hit the hole hard and fast on off-tackle runs. Like most inexperienced running backs with speed, they are both much better runners in space than they are in the middle of the field. Jones, at least, is showing some power in traffic. When he gets his timing and vision down between the tackles, which admittedly may not happen this season, he'll be a complete runner. In this game, Jones had no negative rushing yards, which is always a promising stat.
At this point, the Hokies lack a power running game like what they're used to. Not that they stink at it, but it's not up to Virginia Tech standards. This is primarily due to the loss of Suggs and the youth of the offensive line, and opposing defenses are starting to smell the weakness and move up in the box to defend the run. The Hokies' lack of a deep passing game doesn't help develop the running game, but the good news is that Ferguson is there as a blocker, clearing the way.
None of which means the running game is suffering. The toss sweeps, outside runs, and cutbacks are working well. But that mow-em-over mentality, evidenced by 313 yards rushing on 61 carries at UCF last year, is definitely still being developed by this team.
On the yardage front, KJ is now the Hokies' leading rusher. He has 50 carries for 304 yards (6.1 ypc, 1 TD), and Burnell has 63 carries for 301 yards (4.8 ypc, 6 TD's). With Grant Noel staying in the pocket, the fullbacks carrying the ball only 3 times a game, and other tailbacks sitting on the bench, it's a two-horse race between Jones and Burnell to see who will lead Tech in rushing this year.
Defensive Line
UCF head coach Mike Kruczek made the statement last week, "I donít think there is any team in the nation that can stop us with a four man rush," but the Hokies very nearly did just that.
UCF managed to neutralize Tech tackle David Pugh with a combination of double-teams and effective one-on-one blocking. But where Pugh was absent, the other defenders on Tech's DL were present and accounted for. While Pugh only had 3 tackles, fellow tackle Chad Beasley had 4 tackles and a sack.
Defensive ends Nathaniel Adibi and Lamar Cobb, who rotate with Pugh and Beasley, had 9 tackles between the two of them. Neither one had a sack, but Adibi did tie for team-high honors with 3 QB hurries. As a unit, the starting DL had 16 tackles, a sack, and 4 QB hurries.
In a remarkable performance, the backup DL (Jim Davis, Derrius Monroe, Dan Wilkinson, and Cols Colas) outplayed the starters statistically, with 18 tackles, two sacks (one each by Monroe and Davis), and 6 QB hurries (3 by Monroe).
Most of the pressure and sacks were put on with a four-man rush. The Hokies didn't sell out on the blitz, evidenced by the fact that the linebackers and defensive backs had no sacks and just one QB hurry. UCF QB Ryan Schneider made many of his mistakes facing a basic four-man rush, and two of Tech's three sacks -- by Derrius Monroe and Chad Beasley -- came on a four-man rush. I didn't notice if the third sack was a four-man rush.
Tech Special Teams
I asked a sacrilegious question of some Hokie fans at a tailgate Saturday morning. I was thinking about the fake punt that Rutgers had converted against the Hokies, plus Carter Warley's 4-9 mark on field goal kicking (to that point), and I asked a couple of Hokie fans if they thought Frank Beamer's special teams prowess was overrated. After all, Miami of Ohio had beaten the Hokies with special teams in 1997, and Florida State's special teams advantage was one of the primary reasons the Hokies lost the national championship game two years ago.
It was a silly question. The Hokies aren't perfect on special teams, but they have won many more games on special teams than they have lost. And a quick perusal of stats from last year alone reveals that the Hokies returned 4 punts for TD's, while their opponents had none; and Tech blocked 8 kicks, while their opponents blocked only one.
(By the way, here's an amazing statistic I uncovered in looking at last year's statistics: Hokie opponents made one field goal in the regular season last year -- one. Akron's kicker made a field goal in the first quarter of the first game of the season, and Tech opponents didn't hit another one until the Gator Bowl, going 1-7 in the regular season.)
In this game, the Hokies demonstrated unequivocally their special teams dominance. Andre Davis scored his fourth career punt return TD, and the Hokies pulled out a rare bit of trickery when punter Vinnie Burns completed a 33-yard pass to Garnell Wilds on a fake punt. Despite Coach Beamer's edict of "no fakes" before the Hokies went out on the field, Burns noticed that Wilds was uncovered and threw it to him for a first down.
Tech also squib-kicked one kickoff (on purpose? Given Mollerup's proficiency on kickoffs, I think so) that resulted in UCF batting it around and Tech recovering.
But without a doubt, the most masterful display of special teams acumen occurred at the end of the first half. With 1:11 to go, UCF took over possession on their 20 yard line, and after their first two plays resulted in losses back to the 16-yard line, the Hokies spent a timeout with 17 seconds to go. When UCF's third and 14 play netted just one yard to the 17-yard line, the Hokies spent another timeout with 12 seconds to go, forcing UCF to punt.
And Tech promptly blocked it for a near-touchdown, settling instead for a safety when the ball barely made it out of the end zone. It's too bad ESPN's Mike Tirico wasn't broadcasting this game, because he's a big fan of Tech's special teams, and he would have loved to have seen it.
There are very few teams that can simply adopt the attitude of, "We're going to force you to punt, then we're going to block it." Virginia Tech is one of them. I sometimes wonder why the Hokies don't try to block every punt, but I guess Andre Davis's four punt returns for TD's in the last two seasons answer that question: when the threat of a block is there, it sets up the return. You have to do both for each to be effective.
Comments on UCF
The Golden Knights were just hapless. QB Ryan Schneider, despite throwing a million times a game and therefore having lots of experience at it, made some very poor throws, hitting Hokie defenders in the hands three times. Willie Pile's interception was a gift, as was Ben Taylor's, and Brian Welch dropped a sure touchdown thrown directly to him by Schneider.
Taylor's pick was the most mystifying. He ran with the tight end step for step, and Schneider threw a perfect bullet to Taylor's chest. What Schneider was thinking on that play is a mystery for the ages.
Another mystery is what UCF Coach Mike Kruczek was thinking when he went for it on fourth and one from his own 34-yard line with the score tied 7-7 in the second quarter. Tech's Jake Houseright popped Schneider on a QB sneak, easily stopping him. The Hokies took over on downs.
When asked about that call after the game, Kruczek snapped, "They (Tech) didn't convert it." That's true, Coach (Tech fumbled on the ensuing possession), but it doesn't make it a good call.
I think UCF is the most talented team the Hokies have played so far, and the final score didn't do them justice. Their defense in particular had some impressive players on it. Linebacker Tito Rodriquez (#44 - 13 tackles) and strong safety Ricot Joseph (#9 - 8 tackles) made some great plays.
In my game preview, I didn't give anyone on the defensive line other than DE Elvin Patterson (#97) credit, but he was far outshined in this game by DT Josh McKibben (#95) and DE Rashad Jeanty (#90). Jeanty, a true freshman who was a Tech recruiting target last year, could have been a star for the Hokies, had he chosen Tech. He has good size and great speed. At one point, he ran Andre Davis down from behind on a flanker screen, and he showed good pursuit all day long.
Jeanty's freshman status was apparent on one play, though. On Keith Burnell's 13-yard TD run in the second quarter, Jeanty, listed at 6-3, 220, was blocked straight up and out of the play by Tech's Shawn Witten, listed at 6-0, 194.
But the most impressive play made by the UCF DL was on a third quarter run by Kevin Jones. Jones peeled off a 33-yarder down the left sideline and was pushed out of bounds far downfield by Jeanty ... who was followed closely by McKibben in hot pursuit. DL's that fast, who pursue that far downfield, would be coveted by any program in the country.
Overall, the UCF defense in particular had some talent. They're definitely a better team than the one Tech pummeled last year in Orlando. They just need to eliminate the mistakes and get better decision-making from the quarterback and coaches.
Miscellaneous Notes
Tech's offensive line is vastly improved in pass-blocking. They're sealing up opponents on the line of scrimmage, even in blitzing situations, and through four games, Tech opponents have just two sacks (versus nine for the Hokies).
Vinnie Burns only averaged 33.5 yards per punt on 4 kicks, but he was the victim of short fields and a few spotty snaps.
On Jarrett Ferguson's 24-yard reception on a screen play, center Steve DeMasi led him far downfield, motoring at top speed. It was an impressively display of mobility by DeMasi.
Prior to his first fumble in the second quarter, Noel made a very nice play, scrambling to avoid the rush and finding a wide-open Kevin Jones for a completion to the UCF 10.
On a zone blitz, Nathaniel Adibi dropped back into coverage and made a nice tackle of the tight end on the sideline. Adibi struggles at time with the pass rush, but he has become an excellent defensive end "in space," where he seems to make most of his best plays.
Up Next: West Virginia
It is finally October, and the Hokies get to take their first bite of the meaty part of their schedule next weekend. Tech travels to Morgantown for a game against the WVU Mountaineers, who reared up from a dismal season in 1999 and nearly derailed Tech's national championship bid.
Under new coach Rich Rodriquez, the 'Eers now run a no-huddle offense, and they have installed Tech's attacking defense, under none other than defensive coordinator Phil Elmassian, the same coach who installed it at Tech in 1993.
Last year, Tech overcame a sloppy first half to destroy the Mountaineers 48-20 in Lane Stadium. It was the Andre Davis show, as he scored three times in just over six minutes. It was also Davis's last hurrah last season, as it was in this game that he injured himself.
I'll return with a game preview, complete with roster card, later this week.