TSL Extra
Defensive Player
of the Game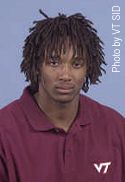 #17 Garnell Wilds
CB, 5-11, 193, R-So.
Score: 31.6 points

Click here for an
explanation of the
award and how the
scoring is done

In his first collegiate
start, Wilds intercepted
two passes in the
fourth quarter, the last
one coming in the end
zone as time expired
to preserve Tech's
shutout. Wilds had
16 return yards in
his two pickoffs,
and he added one
solo tackle, two
assisted tackles, and
two passes defensed.
Second: DeAngelo Hall
with 26.2 points.

The TSL Extra
defensive point system
was created in TSLX
issue #5. For a
complete explanation,
including rankings of
the Hokie defenders
from the 2000
season, see TSL
Extra issue #5.

Click here to
subscribe to the TSLX!
Your subscription
includes access to
all of the back issues!
Game Analysis: Temple

by Will Stewart, TechSideline.com, 11/12/01
Click here for TSL's Game Recap
Temple is like that transitional boyfriend or girlfriend that comes between a traumatic breakup and your next serious relationship: what goes on looks like a relationship and has all the trappings of a relationship, but in the end, it doesn't really matter. You met, you went out on dates, and you broke up, but ten years from now, you won't remember it at all.
That's the role the Owls fill for the Hokie football team right now. They come between the traumatic Syracuse and Pitt games and the more meaningful Virginia and Miami games. But this 35-0 waxing of the Owls won't be something that comes to mind when recalling this season.
The point of a transitional relationship is to get back in the water, get your feet wet, and prove to yourself that you can do it again without screwing up or falling apart. Transitional relationships are usually with people who aren't as good looking as the one you just broke up with, aren't as smart, and have no chance of dating you for very long.
In a similar vein, the Owls aren't as good as Syracuse and Pitt, aren't as smart, and didn't have a chance of hanging with the Hokies for very long. Tech has dispatched of them, and now it's time to move on to something more serious.
I did not attend this game, and it was not on TV, so for the first time since the 1999 UAB game, I'm forced to do an analysis without first-hand experience. Some people who went to the game emailed me their thoughts, and I'll use that in conjunction with Bill Roth's call of the game and some statistical analysis. Despite all that, this analysis will be a little shorter than others … kind of like a transitional relationship.
Key Plays
This game was contentious for a while, and it really wasn't broken open until Kevin Jones' 87-yard TD run midway through the third quarter made it 21-0. Coach Beamer himself admitted in his post-game comments that he felt better when Tech went up by three scores, because he didn't think Temple could score three times on the Hokies.
The Hokies made some key plays, and Temple made some key mistakes, to get to that 21-0 point.
1.) DeAngelo Hall's interception: after Grant Noel had thrown a bad interception on Tech's first drive, giving the Owls the ball on Tech's 25-yard line, Hall made a great play to pick off a Mike McGann pass on the Tech 7-yard line and kill Temple's first scoring chance.
2.) Draw play by Kevin Jones: on Tech's third possession, with the Hokies facing third and 10 and the score still 0-0, the Hokies ran the draw to Jones. He picked up just enough yardage for the first down, advancing the ball from the Tech 45 to the Temple 45. Two plays later, Tech made the next key play…
3.) TD pass to Andre Davis: on second and 6, Noel play-action faked to Jones and threw a perfect 41-yard strike to Davis for a touchdown. Davis was covered closely, but Noel delivered a great pass to put Tech up 7-0.
4.) Bobbled punt snap by Temple: early in the second quarter, still 7-0, Temple punter Jace Amore acted like the freshman he is and dropped a punt snap on the Temple 11 yard line. Jones took it into the end zone on the next play. Tech 14, Temple 0.
5.) Temple misses field goal: with 55 seconds to go in the first half, the Owls missed a 42-yard field goal attempt that would have made it 14-3. The miss was the last play in a 12-play, 65-yard drive to end the half for Temple.
6.) Jones' 87-yard TD run: with the Owls holding the field position advantage midway through the third quarter and the game still in doubt, Jones hit the line off left tackle, made a spin move that left three Temple defenders in his wake, and burst up the middle for the touchdown.
While the Hokie offense was "finding itself" and putting together a couple of scores in the first half, the Hokie defense was holding the clamps on Temple's pathetic offense. The Owls started with two quick first downs on their first two plays, but for the remainder of that possession and the next six possessions, they only picked up one more first down.
When Temple's eighth and last possession of the first half started, they had 3 first downs. They got 4 more on their last possession of the half to finish the first half with 7first downs. By my calculations, they had 42 yards of offense on their first two plays and 44 yards in their last drive of the half (the rest came on penalties). In between, in six offensive possessions, they only had 17 yards.
KJ Gets the Start
One thing the coaches did to shake up the team and try to inject some life into them was starting Kevin Jones over Keith Burnell at the tailback slot. This appears to have been a good call, because Jones made a game-breaking play that I don't think Burnell could have made.
On his 87-yard TD, Jones hit the line at left-tackle, spun through and around three Temple defenders who were converging on him, and then burst up the middle untouched for the TD.
Burnell can make the spin move, but it's doubtful he's got the acceleration Jones has to blow up the middle of the field like he did. The run was positively Vick-like. By my calculations, it was also Jones' 18th rush out of 21. After having only 10 carries for 30 yards in Tech's previous two games, he totaled 155 yards rushing for this game.
Was the 87-yarder the result of getting more carries and getting into the flow of the game, as everyone had predicted he would do all week long? Who knows? But the point was, he was on the field when that play was called, and when the Tech offensive line and receivers threw those particular blocks.
On a team that is looking for offensive play-makers, you've got to have the kids on the field who have the best opportunity to be those play-makers. Jones is that player, at least at the running back spot. Beamer said after the game that Jones will start against Virginia this weekend.
Defense Bringing the Heat
The Hokies blitzed more in this game than they have recently, and the results were obvious and advantageous. Temple QB Mac DeVito, who replaced true freshman Mike McGann early in the game, was flushed from the pocket often and found it very difficult to complete passes (he was 11-34, less than 33%, on the day).
Two of Tech's three sacks came from non-lineman positions. According to stats on hokiesportsinfo.com, Ben Taylor and Kevin McCadam each had a sack, and Nathaniel Adibi had the remaining takedown.
If it seems as if Tech has blitzed less in recent years, you're right. I interviewed former Tech defensive tackle J.C. Price recently for issue #12 of the TSL Extra, and I asked him what differences he saw in today's Tech defense versus the 1995 defense that he was a key part of. He answered:
"The way we blitz now is more defined. There's more of a plan to it. When we first put the defense in, and Coach Foster will tell you this, sometimes we blitzed just to be blitzing. Now I think they're more controlled and dictating to the offense what the defense wants to do, whereas before, when we first started playing the defense, we were just kind of running blind and trying to create havoc. I think they do a lot more stuff now as far as waiting to see what the offense lines up in, and then maybe blitzing according to what the offense does, whereas before, when I played, we had a blitz called, and no matter what they came out in, we were just going to do it."
J.C. didn't come right out and say that the defense blitzes less now, but that's what I took away from his comments.
The lack of blitzing last week against Pittsburgh in particular is confusing. Pitt throws to the wideouts at the sidelines and downfield, and rarely to the running backs and tight ends. You would think this would free up the linebackers for more blitzes, since the coverage responsibilities aren't there like they are with a team like Miami, which utilizes the backs and tight ends in the passing game. Ben Taylor had a whopping 17 tackles in the Pitt game, including four tackles for loss, but he only had one sack and no QB hurries, and I had a general feeling that he didn't have much of an impact on the game (what VT defender did?).
There's something to be said for "trying to create havoc" with the blitz. You may get burned here and here by offenses adjusting to it, but at the very least, it puts your defense back into attack mode, and there's an important, aggressive mindset that comes with that. And everyone knows intuitively that there's a big difference between the following two plays:
1.) Taylor lays back in coverage, and the pass is complete for 17 yards to a wideout.
2.) Taylor blitzes, the QB tosses a 17-yard pass to the tight end across the middle, where Taylor has just vacated. The safety makes the tackle, and Taylor smashes the quarterback in the mouth right after he releases the ball.
The result is the same, but the QB is aching after play #2, and he remembers Ben Taylor the next time.
Sometimes I wonder if coaches get too caught up in the tactical aspects of what they're doing, and they forget to cut the players loose and tell them to go get 'em.
Play Action and Draws
The Pittsburgh fiasco left many Tech fans calling for the play-action pass and the draw play, and from the radio call, there appears to have been more play-action passes and more draws called by the Hokie offense in this game.
Both plays are misdirection plays designed to make the defense think twice about pinning their ears back and coming after the quarterback and the running backs.
Play-action -- a fake handoff on a passing play -- is designed to freeze linebackers and safeties for a second, allowing the wide receiver to get a little time to run his route and get open. The draw play -- a delayed handoff to the running back after the QB has apparently dropped back to pass -- is designed to get the running back the ball in space, and if he can get by the linemen, he theoretically will pick up yardage because the linebackers have vacated the middle either to blitz or to cover receivers.
My drive chart shows four draw plays to Kevin Jones. They picked up 9, 0, 10, and 11 yards. That's 30 yards on four carries, for a 7.5 ypc average. If you take out the 87-yarder and the draw plays, Jones had just 38 yards on 16 carries, a 2.4 ypc average. Ouch.
But the point is, the draw was effective in this game. One of them turned a second and 13 into a third and 4. The second gained no yards on first down. The third draw picked up a first down on third and 10, and the fourth picked up 11 yards on second and 23. Except for the first down flop, they were all very effective calls.
As for the play-action, from what I could tell listening to the radio call, it was used often, including on the 41-yard TD pass to Davis. Tech radio play-by-play announcer Bill Roth said the play-action "froze the safety," but a Tech fan who went to the game told me, "One of the problems we have in the passing game is that for some reason, the opposing defenses KNOW when we are going to throw off the play action. (On) the touchdown pass to Davis, I watched as two linebackers and the safety all bolted for pass coverage as soon as the ball was snapped. We're obviously giving something away there."
Watching coverages and evaluating the response to play-action is very difficult for even seasoned football observers to do in a live setting. It is best done watching a tape that shows the whole field. So the jury is still out on this one. Watch for the play-action against Virginia this coming weekend and see if (a) Tech calls it, and (b) if it is successful.
Miscellaneous Notes
By all accounts, DeAngelo Hall had a tremendous day in his first start. Roth said his first quarter interception was a "great" play, and he talked about Hall making a good break on the ball. One Tech fan pointed out to me, "Five separate times I noted that Hall made an outstanding play. The pass interference call against him was so bad, I couldn't believe it (except that I've come to expect that pathetic officiating from BigEast refs)."
The decision to start Jim Davis and Cols Colas over Nathaniel Adibi and Lamar Cobb yielded … interesting results. According to defensive stats posted on hokiesportsinfo.com, Davis and Colas did not make a single tackle or QB hurry between the two of them. Cobb also had no tackles, but Adibi had his first sack of the season, for a 10-yard loss. All told, the quartet of defensive ends had just two tackles -- both by Adibi -- in a truly invisible performance.
Continuing in that same vein, defensive tackles Dan Wilkinson, Channing Reed, Chad Beasley, and Derrius Monroe had 9 total tackles. The game was dominated in the tackle statistics by Tech's linebackers and defensive backs.
Tech's third-down conversion rate was a woeful 3-14 (21%).
Mike Daniels got his first start at Whip linebacker. Observers said he played well, with two tackles and a pass breakup.
Grant Noel was 1-4 in his first four passes, if you count his interception as an incompletion. He was 10-11 in his remaining passes, starting with the TD pass to Davis and ending with his 34-yard TD pass to Ernest Wilford (a poorly thrown ball, but caught nonetheless).
Up Next
The Hokies take on the Virginia Cavaliers in a game that will go a long way towards defining Tech's season. The game is scheduled for a 3:30 start at UVa's Scott Stadium and will be televised on ESPN. I'll return later this week with a game preview and roster card.
Good article, huh? Well, TechSideline.com's monthly TSL Extra is packed with articles like this! For just $24.95 a year, you can be treated to a Tech e-zine of the highest quality, featuring in-depth articles, statistical analysis, and fascinating interviews!
Click here to subscribe!