TSL Extra
Defensive Player
of the Game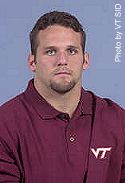 #34 Brian Welch
LB, 6-0, 231, r- Sr.
Score: 32.9 points

Click here for an
explanation of the
award and how the
scoring is done

With an interception
return for 27 yards,
one pass defensed,
a tackle for a 1-yd loss,
six solo tackles and
three assisted tackles,
Welch scored a
season-high 32.9
points in the TSL
Extra defensive point
system to earn
TSL Extra Defensive
Player of the Week
honors.
2nd: Ben Taylor
with 30 points.

The TSL Extra
defensive point system
was created in TSLX
issue #5. For a
complete explanation,
including rankings of
the Hokie defenders
from the 2000
season, see TSL
Extra issue #5.

Click here to
subscribe to the TSLX!
Your subscription
includes access to
all of the back issues!
Game Analysis: Rutgers

by Will Stewart, TechSideline.com, 9/24/01
Click here for TSL's Game Recap
As Virginia Tech plows its way through a weak September schedule, Hokie fans, coaches and players alike find themselves picking apart every little flaw in their team, fearing a December matchup with the mighty Miami Hurricanes that is still over two months in the future.
In a 50-0 victory, the worries that are surfacing are a measure of how far the program has come, and how unchallenging the month of September is to this team. As the team takes care of business, so far outscoring their three opponents 133-10, all eyes are on the future, and Tech fans are asking the question, "Is this team good enough to beat Miami?"
That's a valid question, and at this point, most reasonable Tech fans would agree that the odds would be with the Hurricanes, if the two teams were to meet today. Miami's team is almost bullet-proof, whereas the Hokies have displayed a spotty running game, a passing game that has shown no ability to go farther than 25 yards downfield, and a quarterback that is learning on the job.
Fortunately for Virginia Tech, the Hokies and Miami don't meet "today." Both teams must wade through October and November schedules full of potential minefields, more so for Tech than for Miami. The Hokies have road trips to West Virginia, Pittsburgh, and a resurgent Virginia team to deal with, as well as a home games with Boston College and Syracuse. And no one, least of all #15 Florida State, appears to have the guns to stick with Miami. If the Hokies can negotiate their way through the next seven games without a loss, it's almost a mortal lock that two undefeated teams will meet in Lane Stadium on December 1st.
Till then, the trick for Tech is to keep improving ... and keep winning.
As the wins mount for the Hokies, their strengths (namely, the defense) are given passing acknowledgement, and the perceived weaknesses and areas of inexperience are analyzed in fine detail.
This game analysis will concentrate on areas where the Hokies came up short against Rutgers, but it is not intended to sound like a negative report. It is meant only to highlight the areas where Tech can, and some say must, improve as the season goes on.
Let's start with the ever-popular subject of quarterback Grant Noel.
Grant Noel
Thanks to a statistically impressive performance (17-22, 164 yards, 4 TD's, 0 INT's), Noel is now sixth in the nation in passing efficiency. For the season, Noel is 46-67 for 575 yards, 8 TD's, and 0 INT's.
Having completed his third game as a starter, Noel looks just like a guy with only three games experience under his belt. The good news is, his mental execution has been very solid, at least to this layman's eye, but the bad news is that his physical execution has been inconsistent.
I have been impressed with Noel's grasp of the offense. He gets the ball snapped on time, he makes the right reads, he audibles out of trouble, and he hasn't turned the ball over in three games. Noel only has one fumble, against UConn, and hasn't thrown any interceptions this season.
He did throw one awful pass against the Knights, an ill-advised pass into the left flat that should have been picked off and returned for a TD, but such mental mistakes are rare on Noel's part. Of course, he hasn't been under much pressure -- Tech quarterbacks have only been sacked twice.
His physical execution, on the other hand, comes and goes. His screens and dump-offs to the fullback (Jarrett Ferguson has 7 catches so far this year) have been almost flawless, but by contrast, he has not thrown a good deep pass yet, in three attempts that I can recall. In between, his mid-range slant passes have been good at times, sometimes very good, but behind the receiver at others. And his curl patterns, mostly to Shawn Witten, have been very good.
It is obvious that the coaches are going with a controlled passing game this season, one that looks very different to me than Tech passing offenses of the recent past. The "new" passing offense includes slant patterns for both the receivers and the tight ends, as well as passes to the fullback out of the backfield. These elements are being used more this year than in recent seasons.
Tight ends caught 12 passes in the regular season last year; this year, they have already caught 6 (Slowikowski 3, Willis 2, Wynn 1). Fullbacks caught 11 passes last year; this year, they already have 11 catches (Ferguson 7, Briggs 3, Easlick 1).
Meanwhile, Noel has thrown three "bombs" that I can recall: one to Witten in the Western Michigan game (not even close), and two to Andre Davis in this game (one woefully underthrown, and a second that was much closer, but Davis was interfered with, and the ball was too far inside for him to reach it).
I don't think it's any stretch to say that the long passing game needs continued work, but it's also obvious that the coaches, to this point, are de-emphasizing it. My guess is that they're working to Noel's strengths (short passing game, ball control offense) and away from his weaknesses (deep ball accuracy).
One need only look at the fact that Noel is averaging 22.3 attempts per game, in around three quarters worth of work per game, to see that the passing game, in particular the short passing game, is now a bigger part of the Tech offense.
By contrast, Michael Vick only threw the ball 16.1 times per game last year. But of course, Vick ran it from the pocket often and was sacked more often than Noel, resulting in many of Vick's passing plays turning into rushing attempts. Still, I think the larger point -- that the short passing game has been integrated into the Tech offense -- holds.
For all the hand-wringing over Noel's inability to throw the deep ball thus far, he has made some very nice throws that have been overlooked. He threw a down-and-out to Ernest Wilford that was sharp, and his TD pass to Keith Willis was rifled into tight coverage as Noel was hit by a defensive lineman. He also completed a short pass to Davis in the face of a nine-man rush. Yes, he did make one or two poor throws, but he has flashed some ability. And zero turnovers in three games, no matter how weak the competition, is a stat to build on. Noel has come a long way since the day Vick said he was entering the NFL draft (heck, he has come a long way just this fall), and he continues to get better as he plays more.
Rushing Offense
The performance of Tech's rushing offense, or lack thereof, in this game was unexpected and alarming. The defensive line and linebackers are not Rutgers' strong suit defensively, so the Hokies were expected to roll over the Scarlet Knights with the rushing game. Statistically, Tech did well, running the ball 46 times for 223 yards (4.85 yards/carry), but a close analysis of the stats reveals a not-so-rosy picture.
Out of Tech's 46 rushing plays, 25 of them (54%) went for 2 yards or less. And 156 of Tech's 223 yards were accumulated on just 8 rushes, meaning that the other 38 runs gained only 67 yards, or a paltry 1.76 yards per carry.
Another way to say that is that if you scrape off the top 17% of Tech's rushing attempts, the other 83% of Tech's running plays averaged less than two yards per carry.
An examination of the game tape doesn't fully answer the question of why. I can offer three contributing factors:
Rutgers defense: Rutgers sold out to stop the run. They brought their safeties up close to the line and blitzed often, and they frequently filled all the available holes, leaving Keith Burnell and Kevin Jones nowhere to go. On many rushing plays, the Rutgers defenders simply had the VT blockers outnumbered at the point of attack.

A number of times, as Noel handed the ball off, you could hear the play-by-play announcer say, "Blitz ..." before making the call. Rutgers' defensive tactics burned them a few times, most notably on Burnell's 55-yard run (when the linebackers were nowhere to be seen), and a long cutback run by Jones where the Rutgers players all piled up on the right side of the VT offensive line, leaving Jones open to cut back left for good yardage.


No Lee Suggs: Okay, this is easy to say, but it's true. Burnell is very good in the open field, as is Jones, but neither of them are Suggs' equal in traffic. You wouldn't expect them to be, given that they're relatively inexperienced. On the bright side, Jones showed a new willingness to lower his shoulder and hit people.


An uninspired offense: I question how mentally sharp the Hokies were in this game. I think they were fairly crisp, but I don't think they were totally into the game. The key stat that brings this to light are the 8 Tech penalties for 108 yards. That's not like a Frank Beamer-coached team to commit that many penalties (they only averaged 6.4 per game last year), indicating a lack of mental sharpness.
The coaches can, and probably will, shed more light on the lack of a running game after they analyze the films, but those are my theories.
Miscellaneous Notes
Cols Colas received very little recognition for his play in this game, but I thought he looked very good. He was very disruptive, particularly early in the game, and he was VT's best pass rush from the defensive end spot in this game. It was Colas who forced Rutgers QB Ryan Cubit into his second interception by flushing Cubit out of the pocket on a speed rush. And on a play near the goal line where Ben Taylor crushed Cubit, it was again Colas who flushed him out of the pocket. He embarrassed the tackle who was trying to block him.
Speaking of defensive ends, Nathaniel Adibi still needs to improve his pass rush. Adibi is a decent run defender, but most of his best plays on passing downs are made in the flat, either by dropping back to defend a screen, or at the line, by jumping in the air to bat down a pass, as he did in this game. Jim Davis and Cols Colas (in this game) are still better pass rushers.
Billy Hardee had an interception was a thing of beauty. Hardee, far away from the play, closed on the receiver late and laid out horizontally to make a great pickoff.
I worried for a moment that Kevin Jones's nose had been broken early in the game. A Rutgers defender banged into him head-on in traffic, and Jones collapsed to the ground. He got up holding his nose, but nothing appeared to come of it.
The refs blew one call that would have given Ben Taylor the TSL Extra Defensive Player of the Game. Taylor picked off a Cubit pass near the ground, but the refs ruled it no catch. The replays were hard to see, but I thought Taylor got it. The extra 8 points (for an INT versus a pass-defensed), would have given Taylor the award over Brian Welch.
Speaking of Welch, it was great to see him win the TSLX Defensive Player of the Game award. If you've ever had the pleasure of meeting him and talking to him (I have), he is a very humble, well-spoken kid. As you probably know by now, when Welch was just six years old, his father was killed in a terrorist attack in Beirut. Welch carried the American flag onto the field in this game, and he was given his first career start. He responded, and it's great to see someone like Brian Welch have a great game at a time like this.
Up Next: Central Florida
Tech's sleepy September is almost over, and so far, the Hokies have managed to escape it unscathed. Their last test of the month comes in a home game against Central Florida this Saturday at noon (the game will be shown on Florida's Sunshine Network and will be tape-delayed on Fox 21/27 out of Roanoke, at approximately 4 p.m.).
Last year, in one of the most boring games in the history of college football, the Hokies rolled UCF (note: not CFU), running 61 times for 313 yards (and passing just 8 times, completing 2 for 55 yards). With Michael Vick out, backup QB Dave Meyer was injured in the game, and Grant Noel came in to hand the ball off 20 straight times, without throwing a single pass.
UCF had 362 yards passing in the game, but they killed themselves with four interceptions and two lost fumbles, one of which was returned for a TD by Nathaniel Adibi.
I'll return with a game preview later this week.