TSL Extra
Defensive Player
of the Game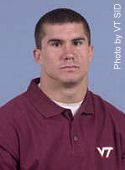 #5 Kevin McCadam
ROV, 6-1, 215, Sr.
Score: 49.4 points

Click here for an
explanation of the
award and how the
scoring is done

In winning the award
for the third time in
six games, McCadam
recorded a season-
high 49.4 points.
He returned a fumble
9 yards for a TD,
forced another fumble,
and he had four
unassisted and two
assisted tackles,
including a tackle
for a 3-yard loss.
2nd: Willie Pile
with 23 points.

The TSL Extra
defensive point system
was created in TSLX
issue #5. For a
complete explanation,
including rankings of
the Hokie defenders
from the 2000
season, see TSL
Extra issue #5.

Click here to
subscribe to the TSLX!
Your subscription
includes access to
all of the back issues!
Game Analysis: Boston College

by Will Stewart, TechSideline.com, 10/15/01
Click here for TSL's Game Recap
At the end of this game, the ESPN2 announcers, who had been yucking it up ever since the Hokies took a 31-0 lead in the third quarter, struck straight to the heart of the matter where this Virginia Tech football team is concerned.
Analyst Mike Golic said, "The coaches know what they're trying to prepare these guys (the Hokies) for. I don't think it's a secret from anybody. I know they're going week to week, but everybody knows where this team is heading."
"They're trying to prepare to be in Pasadena," fellow analyst Bill Curry responded. "To do that, they're going to have to play a game like they played in the first quarter and a half, without making the mistakes they made thereafter."
Therein lies the focus of the commentary on this game. The Hokies looked like a national championship caliber team in the first quarter and a half, but after that, they pulled into their shell, played conservatively, and coughed up some late points to make the final score much closer than the game.
Let's take a look at BC's late scoring -- how it was done, what it means -- and a few other aspects of this game worth noting.
Boston College's Late Points
Boston College scored 20 points in the last 19 minutes of this game, nearly as many points as had been scored on Tech (24) in the previous 341 minutes of play this season. During that 19-minute stretch, Tech committed numerous offensive and defensive mistakes, and BC put together some nice plays to take advantage and score some points, the last coming on a TD with 9 seconds to go.
(Small VT/BC history lesson: late defensive lapses are not unheard of in this series. In 1994, the Hokie D shut Boston College down in Chestnut Hill for the entire game, only to yield a TD with 6 seconds to go that cost them the shutout. Tech won 12-7, but the defense was rankled by surrendering the late score.)
While the defense is taking the heat for BC's late scoring, the offense needs to share some of the responsibility. Boston College's average starting position in quarters 1-3 was its own 20, 21, and 20. In the fourth quarter, thanks to interceptions thrown by Grant Noel and Bryan Randall, Boston College's average start was the Tech 49 yard line. Given that kind of field position, offenses only have to make one or two plays, and they're going to score.
I said in the TSL preview, and it bears repeating here, that Boston College only has success against Tech when their QB's and wideouts make outstanding plays. From the middle of the third quarter on, they made several impressive plays. Combine that with a couple of defensive lapses by Tech, and boom, you've got multiple touchdowns by the opposition.
On BC's first touchdown drive late in the third quarter, Tech committed pass interference on third and 6 to keep the drive alive for BC. Two plays later, Boston College QB Brian St. Pierre and receiver Ryan Read executed a perfect pitch-and-catch that Tech DB Larry Austin was powerless to stop. The 35-yard completion moved the ball from the Tech 43 to the 8 yard line, and BC tailback William Green broke some sloppy tackling on the next play to score.
BC's second touchdown was an equal combination of Tech mistakes and BC plays. First, Tech QB Grant Noel threw an awful interception that BC lineman Antonio Garay returned from his 20 to the Tech 31. On the interception, freshman Kevin Jones missed a block on a BC blitzer, Noel was flushed from the pocket, and he got a "wild hair" (as a friend of mine likes to say) and tried to flip the ball forward to Doug Easlick. Bad move. Garay picked it off and put BC in prime scoring position.
After a run into the line, BC executed another great throw and catch, this one a 31-yard TD from St. Pierre to Jamal Burke. On the play, Burke was tightly covered by Tech DB Eric Green, but Burke gave Green a small shove to create separation and make the catch. It was another crisply executed pass, and it was BC's second score. And oh-by-the-way, he didn't push Green very hard, and most referees won't make that call.
Late in the game, Tech backup QB Bryan Randall threw another ugly interception for the Hokies. Randall rolled out and had Terrell Parham wide open for what would have been a touchdown, but Randall's pass was miserably underthrown and was intercepted by BC cornerback Lenny Walls, who ran it back to the Tech 39. Faced with a short field once again, BC punched it in against a Tech defense that was starting to just go through the motions. On the TD, an 11-yard pass to Burke, Tech safety Willie Pile, normally a very solid player, got crossed up and never knew the ball was in the air until Burke had it.
The lapses that led to the three touchdowns by BC (and created some angry bettors, because the Hokies didn't cover the 20-point spread) give the Tech coaching staff some fodder for the next two weeks of practice and film. Not just the defensive coaches, but the offensive coaches as well. Noel's and Randall's interceptions, and the resulting BC field position (the Tech 31 and 39) clearly point out that you can't give up a short field to the opponent, even if you do have the #1 defense in the country.
One hallmark of college football is inconsistency. These are young man with many demands on their time and many responsibilities in their lives, and they're bound to suffer lapses from time to time. It happened in the first quarter of the Connecticut game, and it happened in the fourth quarter of this game. The key is to limit the lapses and hope that they occur in 52-10 and 34-20 games, not 14-14 games.
Conservative Play-Calling
If you thought the Hokies "turtled" after taking a 21-0 lead and starting punching the ball into the middle of the BC defensive line, you weren't alone, and you weren't wrong. One of the key stats to indicate conservative play-calling is the run-pass ratio on first down. Here's how that stat breaks down for the Hokies on Saturday:
Tech ran 27 times on first down and passed just 9 times. That's a ratio of 27-9 (75%) of first down runs.
Prior to the 21-0 lead, Tech ran 5 times and passed 3 on first down (Noel's 37-yard TD to Davis, the Hokies' first score, was on first down). That's a 5-3 (62.5%) ratio.
After taking the three-touchdown lead, the run-pass ratio on first down was 22-6, or (78.5).
Immediately after taking the 21-0 lead, Tech ran on 15 of the next 17 first downs (88%).
The first down run-pass ratio for Tech's first five games was 108-50 (68%).
So if you thought the Hokies got conservative after taking the 21-0 lead, you were right. The statistics -- and the site of Kevin Jones banging into the line over and over and over in the second half -- back it up.
Jones, by the way, had 17 carries for 60 yards (3.5 yards per carry). He ran for 29 yards in his first 6 carries, and 15 yards on his final carry, but in between, he got only 16 yards on 10 carries. Tech was pounding him into the line to try to teach him how to run between the tackles, and BC knew it. The result, even with a great back like Jones, was predictable.
Speaking of the running backs, Keith Burnell is progressing rapidly on learning how to run between the tackles. Sweet Feet registered his second-straight 100-yard rushing game, carrying 19 times for 111 yards (5.8 yards per carry), and he put on an impressive display of running up the middle. In this game at least, he separate himself from Jones and showed that for now, he is the #1 tailback. Jones has more long-term potential, but Burnell is a more complete back at this point.
But there's no way Burnell makes the play that Jones made on his sixth carry of the game, early in the third quarter. Jones took the handoff and, sensing a defender approaching from the left, stopped dead. He then cut left and turned the run into a 9-yard gain. I'm not sure I've ever seen a running back stop dead like that, right after taking the handoff, and then cut so quickly to one side. Barry Sanders could do it on artificial turf, and though Jones is not a Sanders-type runner, this particular cut was one that only a few running backs alive, including Sanders, could make.
Noel's Deep Throws
Grant Noel's first-quarter 37 yard TD pass to Andre Davis was textbook. It was most impressive in its timing (Noel threw it before Davis had separated from the defensive back) and its placement (the ball went towards the corner of the end zone and away from the defender, where only Davis could catch it).
Noel, who was 16-28 on the night for 225 yards, was robbed by Tech's Terrell Parham late in the third quarter. On a third and 8 from the Tech 34, Noel avoided the rush, stepped up and snapped off a beautifully-thrown bomb to Parham. The ball was a tight spiral that traveled 52 yards in the air and was unquestionably Noel's best deep ball of the season.
Parham was behind the defender but failed to catch the ball, making what appeared to be a half-hearted effort, reaching out with just one hand to tip the ball. If Parham had turned on the jets and done a better job extending himself, he probably could have brought it in, maybe even for a touchdown.
Had the play been a TD, Noel would have been 17-28 for 291 yards, 3 TD's, and 1 INT. Now that's a good night. There's nothing shameful about 16-28 for 225 yards, 2 TD's, and 1 INT, but the extra catch would have made for an eye-opening stat line.
Kevin McCadam, Willie Green's Personal Tormentor
The loss of Cory Bird to graduation last year was perceived as a blow to this defense, because the Rover position is critical, and Bird was a team leader who played the position well. The coaches hinted during the spring that Kevin McCadam, who had struggled sometimes at safety last year and was being moved to Rover, was picking the position up quickly. Still, you had to wonder.
Wonder no more. McCadam has taken to the Rover position like a Doberman to a steak, and there appears to be little to no dropoff from Bird to McCadam.
McCadam had another good game and another defensive score, scooping up a fumbled pitch and running it into the end zone from nine yards out (Tech DE Jim Davis made an outstanding play, batting the pitch out of the air so McCadam could pick it up and run it in). In so doing, McCadam won his third TSL Extra Defensive Player of the Week award, an honor he is running away with this season.
A perusal of the game tape shows that McCadam was all over BC's William Green, who was fifth in the nation in rushing yards per game coming in. In the second quarter, St. Pierre threw a pass in the flat to Green, who is a powerful and speedy runner. McCadam closed quickly on him and took him down with a great open field tackle for no gain.
Later in the first half, on a third and 2, St. Pierre handed the ball off to Green, who had ample daylight on the right side and a clear shot at the first down. The blitzing McCadam came down the line and ran the surprised Green down from behind before he could accelerate to daylight.
Lastly, midway through the third quarter, McCadam teamed up with Tech linebacker Brian Welch to tackle Green and strip the football away for a fumble that the Hokies recovered.
Green is a great player with nice moves and top-notch open-field speed, but he didn't get to show it in this game. Kevin McCadam was a large part of the reason why, and Green probably hopes he doesn't see him -- or the Hokie defense -- for a while.
Miscellaneous Stats and Thoughts
Tech outgained BC 186 to (-1) in the first quarter. For the other three quarters, BC outgained Tech 239 to 210.
The Eagles shut down Tech fullback Jarrett Ferguson. Ferguson had just 7 yards on 5 carries, and he caught one pass for (-1) yards.
On Andre Davis's third quarter 34-yard TD catch that made it 31-0, the Hokies lined Kevin Jones up in the slot left as a receiver. The alignment appeared to confuse BC just enough to allow Davis to slip into their zone and find an open spot. Noel hit him with a sharply thrown ball that Davis turned into a TD.
Boston College committed an unheard-of 16 penalties for 120 yards. The Eagles were whistled for roughing the kicker, roughing the punter, roughing the quarterback, and three times were whistled for the violating the 2-yard halo rule on punt coverage. To add insult to injury, they jumped offsides 4 times, giving Noel ample opportunity to demonstrate Tech's snap-and-kneel-down play.
William Green had just 33 yards on his first 13 carries (2.5 yards per carry), but he was able to add 41 yards on his remaining 8 carries (5.1 ypc). For the game, Green had 21 carries for 74 yards (3.5 ypc), about half his 142 yards per game average coming in.
Next Up: Syracuse
The Hokies take a week off on October 20th before reconvening in Lane Stadium on October 27th for a home game against surging Syracuse (noon, Big East regional TV). The Orangemen have won five in a row after dropping their first two games of the season, and they figure to move to 6-2 when they play Temple at home in their next game.
Typically, Tech hammers the Orangemen at home. Tech has outscored Syracuse 124-10 in the last three games in Lane Stadium, including the legendary 62-0 whipping in 1999. But this Syracuse team, which threatened to be their first losing team in 14 seasons, has instead put together a surprising season to take over third place in the league at 2-0 (5-2 overall). This past weekend, Syracuse thrashed Pittsburgh 42-10, sending the reeling Panthers to 1-4 (0-2 Big East).
I'll return next week with a game preview, including roster card.
Good article, huh? Well, TechSideline.com's monthly TSL Extra is packed with articles like this! For just $24.95 a year, you can be treated to a Tech e-zine of the highest quality, featuring in-depth articles, statistical analysis, and fascinating interviews!
Click here to subscribe!