A Smorgasbord of Humility
by Gary Cope, 3/18/04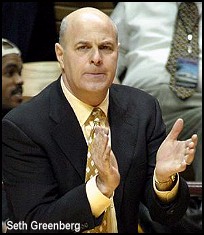 So, this is what crow tastes like? Hmmm. Kind of bitter. Oh, and pass me some of that humble pie, while youíre at it. Hopefully, if thereís still room, I can stick both feet in my mouth as well.
One year after writing a scathing column on the hiring of Seth Greenberg as Virginia Techís head basketball coach, Iím gorging myself on the "Donít-You-Look-Like-an-Idiot" menu. And so far, nothing really tastes like chicken.
When Tech athletics director Jim Weaver hired Greenberg, the message boards on Techsideline.com (TSL) lit up with an overwhelming aura of negativity. So I wasnít alone! Weaver had done it again: hired a no-name coach to continue the tradition of basketball futility at olí VPI&SU. It seemed as though he had proved to us, once again, that Blacksburg is a football town. Always was, always will be. My April 2003 column, "Youíve got to be kidding me," that I submitted to TSL denounced the hiring and blasted Weaver. (Deciding enough unkind things had been said to that point, Will decided not to run it. But trust me, I did write it and send it.)
Well, there I was 12 months later, watching the Hokies play in the Big East tournament quarterfinals. They lost a close game to top-seeded Pittsburgh, 74-61. Tech covered the spread and was within six points late in the game. The final score wasnít a true indication of how close this game really was.
The day before, the Hokies beat a decent Rutgers team, 61-58. Virginia Tech had the Big East conferenceís leading scorer, Bryant Matthews. The Hokies played well, finishing with a winning season (15-14 overall, 8-10 in the conference). In fact, they had a real shot at getting a bid to the National Invitational Tournament. It would have been their first post season appearance since the 1996 NCAAs, when they lost to eventual national champ Kentucky in the second round.
Even with the loss to No. 6 Pittsburgh, the mood on the TSL message boards was surprisingly positive that afternoon:
"Great Season HOKIES & Coach Greenberg Ė excellent effort today!" said TomA.
"Congratulations and thanks for a great season!" shouted CharlotteHokie.
You know your team is getting better when its fans are ripping the refs more often than they rip the players. Tech played hard this year. They didnít quit like they did the last four years. If they got beat, they at least made the other team earn it. The Hokies looked like they were proud to play for our school and its new coach. I think this Greenberg guy might actually be good for this team.
In fact, the enthusiasm is already setting in for next season. "Donít look back guysÖgreen pastures await," urged IronBlood.
"On the bright side, next yearís team looks good right now," commented H2Okie.
And itís true; they do look like a pretty good team next year. They only lose one player next yearÖof course, that player is Bryant Matthews. The biggest concern I have for next yearís team isnít the loss of Matthews. No. Itís the fact weíre playing in the ACC, the best conference in college basketball.
So, while Iím here to eat my words and take my licks like a man, I reserve the right to wait and see what Tech does in the next few years. I gave Ricky Stokes four years to prove he could win at Tech, which he didnít. I was a fan and supporter of Stokes, but when it was time for him to go, I was among the first in line to say, "We like you, but youíre fired."
Iím going to give coach Greenberg the same treatment. He has four seasons, a full recruiting class, to prove he can turn Techís hoops program back into a winning organizationÖin the ACC. One season does not a bad coach make (e.g. Stokes). Conversely, one season does not a great coach make (e.g. Greenberg).
I donít know how successful Coach Greenberg will be in the ACC next season, but I do know one thing: those kids will play their hearts out for him. And if they can match the Dukes and UNCs in terms of intensity level, Iím willing to overlook the mismatch that will inevitably be noticeable on the court and on the scoreboard.