Turn out the "Vick" and Put the "Beamer" Back in Beamerball
by TJ Beitelman, 2/25/04
Editor's Note: As we post a Voice of the Fan article on this sensitive topic, we remind you that the opinions expressed in VOF are not necessarily those of TechSideline.com.
---
When Bryan Randall put back the game-winner against St. John's last Saturday, effectively sending Tech to Madison Square Garden for the first time since their NIT championship in the mid 1990s, it should've served as a wake-up call to everyone who is involved with Virginia Tech athletics. At the very least, the football gurus in the Merryman Center needed to take note.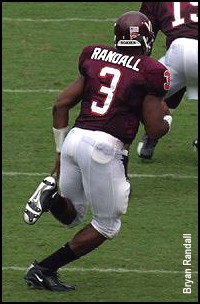 Athletic teams are built on gamers, people who respond to adversity, to challenges and opportunities, wherever they find themselves. Bryan Randall is a case in point -- at every turn, he has stepped up to the plate when there's been a plate to step up to. He has made exponential leaps as a quarterback, transforming himself from someone Tech QB coach Kevin Rogers thought was, at best, a D-1 free safety into a bona fide starter who can win games. He has, by all accounts, done the same kind of work in the classroom, and now he s proving himself as a winner on the hardwood as well.
I daresay he balances his checkbook regularly, brushes his teeth twice a day, and calls home regularly.
You see, Bryan Randall is the kind of person to build a football program around. There have been others in the Beamer era: Ben Taylor, Lee Suggs, John Engelberger, Shayne Graham, Jim Pyne. The list is actually quite long. These were all players who made the most of their talents and, more importantly, their gray matter, both on and off the field. Interestingly enough, all of the players above have gone on to compete in the NFL.
The problem is the program has lost track of what it takes to get on such a list, lost track of how important it is for any organization to populate itself with people who take care of business in all aspects of life.
Image is important, yes, and it's embarrassing to have Marcus Vick's name associated with these most recent dalliances, just as it was embarrassing when Jimmy Kibble had similar problems after graduation a few years back. What's lost in this, though, is that there are very real, on-the-field consequences when players have no life discipline, who tend to make dumb life decisions, who think they can outrun, out-juke, and out-jump whatever opposition life offers up.
That is, they have no discipline on the field, they tend to make dumb decisions on the field, and they think wrongly that they can outrun, out-juke, and out-jump the opposition.
Larry Fitzgerald? He's no match for me.
West Virginia running game? Shoot, don't make me laugh.
Cal? Cal who?
I'm preaching to the choir. And the coaches should know all this better than any of us. Frank Beamer 's well-reported missive on the importance of off-the-field conduct, how it relates to performance on Saturdays, strikes this very chord. More telling, I think, was The Slap at WVU, which spoke volumes to the level of frustration these coaches felt last season.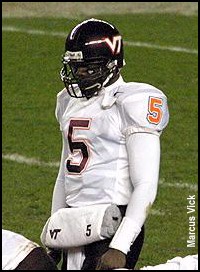 Now Beamer has a difficult decision to make, if in fact Marcus Vick, Mike Imoh, and Brenden Hill are found guilty of contributing to the delinquency of minors. (And don't for a second think that Jim Weaver will make the ultimate call here.) The time for steely glares and iron fists has come, if for no other reason than the sake of this program's stated goal of bringing a national championship to Blacksburg.
Beamer has to make like King Solomon, value the whole over the part, and separate the program from this kind of stupidity. (I hate to be crass, but Marcus Vick has the money, the name, and the BMOC status to get into more than his share of law-abiding mischief with the fairer sex. He should be smart enough to know that.) Let me be very clear: this has little to do with morality; worse things have been done by better football players, and it is laughable to think that big-time college athletics bears some kind of moral standard. It doesn't. We shouldn't expect it to.
Beamer used to like to quote his mentor, Jerry Claiborne: Potential will get you beat every time. He professed to value gamers, not stratospheric but unrealized talent. That was a Frank Beamer who was hard line about fumbles, missed assignments, dumb personal fouls, the very kinds of things that have plagued recent Tech teams. It's not too late for Beamer to reclaim those values. He now has an opportunity to send a shot over the bow to everyone, coaches and players alike: If you do stupid things, I'll cut you loose. Even if your name is Vick and you have three years of eligibility left. Bring your best game all the time, in every way. Anything less is unacceptable.
All great coaches know that the best players want discipline, and they need accountability. Spoiled but talented stars who have yet to really produce on the field can sink even the best programs. Giving no quarter in this situation, where none is deserved, would go a long way towards restoring order to a disoriented program where it needs it most: in between the white lines.
Good thing is, Beamer's in a position of strength. He already has a quarterback.

T.J. Beitelman holds two degrees from VT, a B.A. and an M.A. in English.