Make it Real
by Will Stewart, 10/29/03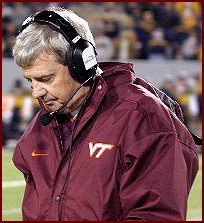 The first thing you'll notice is that this article is filed under "Voice of the Fan," a first for me. I have never written a column and filed it under Voice of the Fan, but I'm doing it with this one, because I need to take the neutral, analyzing, journalist hat off … and put the fan hat on for a minute.
I was pondering what it's going to take to get the Hokies to snap back from the fanny whipping West Virginia dealt them last Wednesday. In the wake of a deluge of turnovers, WVU rushing yards, bonehead penalties, and lost composure, a creepy feeling has permeated the Hokie fan base, and I fear, its players and coaches.
And here's the feeling: Here we go again.
Another late-season swoon, another unpleasant fade into the sunset, another bowl destination like San Fransisco or Charlotte or Jacksonville, instead of one of the heavies, instead of a BCS bowl.
Another postseason relegated to the back burner, to a bowl that is just filler for ESPN's Bowl Extravaganza, or whatever they call it, that two-week stretch in late December/early January where college football takes over ESPN.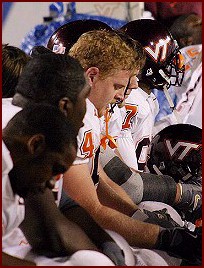 Only this time, the stakes are higher. For three years now, the Hokies have been riding a wave of media goodwill that started in the Michael Vick era and has carried VT through late-season fades in 2001 and 2002, to the point where they once again made the top five this season, despite not having proven much on the field since MV1 stood in front of a microphone in January of 2001 and said, "I've decided to leave Virginia Tech and enter the NFL draft."
But do it again, tank four out of the last six games or something nasty like that, and the goodwill is going to run out. If VT finishes weak this year, a roster full of Marcus Vicks won't stop the press and college fans around the country from sneering at the Hokies early next year when VT runs off five or six wins to start the season again. The Hokies will be a serious target for the scorn of college football followers nationwide.
But, much more important than that, if the Hokies tank this season, the questions will start to come from within the ranks, not just outside, and the Hokie Nation, which has held together well over the last two years, will start to turn on itself and eat its own. Things are going to get nasty -- you can already see it coming -- and nobody, from the fans to the athletic department to the players to the coaching staff, will be spared.
Perhaps that thought scares the hell out of you. Maybe you're sitting nervously, waiting for the other shoe to drop, convinced that you can't do anything to stop it.
As fans, we are indeed limited by the affect we have on a game. Fans can't make the calls, fans can't run or throw the football, and fans can't tackle. Fans can't fill the gap, blitz, rush the QB, or kick field goals. All fans can do is yell.
If you're a good fan, you're wondering what you can do to help.
Let's be honest. We know that Lane Stadium's going to be loud Saturday night. We know that if DeAngelo breaks one, or KJ or Ernest takes one to the house, or Cols flattens Brock Berlin, the "Terror Dome," as Corey Moore once called it, will be insane.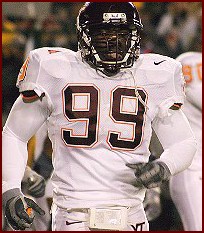 But that's nothing new. And when a program has its back to the wall like Virginia Tech does this weekend, doing things the same old way isn't what's called for. What's called for is a total effort, from the bottom to the top. From the coaches and players all the way down to the fans. Everybody's got to do something new, bring something new and extra to the fight.
So what can you do that's new?
Answer: Show up for "The Walk."
Yeah, yeah, The Walk -- that stiff, contrived "tradition" that was instituted last year or the year before, and that you've never been to. That's the walk that the football team makes from the Southwest corner of Lane Stadium, up Spring Road, to the entrance of the Merryman Center, about two hours before game time. The one where they amble up the road, headphones on, staring at the pavement or the back of the player in front of them, while a sparse handful of fans cheers intermittently.
The crowd's decent-sized at the stadium and decent-sized at the Merryman Center, but in between, along Spring Road, it gets thin.
It's the same walk you don't go to, because you're busy tailgating with your friends and kicking back before the game starts. Heck, if you're not in Lot 1, 2, or 4, The Walk is a long walk from where you are.
Time to put that aside, folks. Time to show up. Time to make a difference.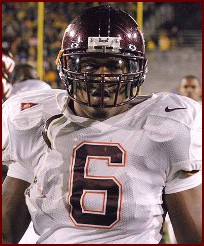 Sure, when you're in the stadium, you can make a lot of noise, all 65,000 of you, but the players are far away, their faces hidden by helmets, their bodies covered by padding, jerseys, and football pants. That far away, they're not real people.
And you know what? You're not real people to them, either. You're loud, you're fun, but you're not real.
Football isn't like basketball. Basketball has an intimacy to it, because of its small playing surface, its intimate arenas, and the fact that the players and fans are so close and can see each other so clearly. In football, there's a disconnect, as tiny specks run around on the field, crashing into each other, while a huge, faceless, crowd ebbs and flows and cheers them on.
Show up to The Walk Saturday, and become real to the Hokie football players. Show them your faces. Let them hear your voices. Let them see what you wear, what color your hair is, how tall or short you are, how young or old you are. Call out their names. Tell them to kick Miami's you-know-what, tell them in language poetic or obscene how important it is to you, as a Hokie fan, for them to knock off the Canes.
Tell them you're behind them. Let them see that last Wednesday night, when they felt totally alone on Mountaineer Field, they weren't. You were at home rooting them on, just as upset as they were over what was happening, but this Saturday, you're back anyway, right behind them again.
The thing is, you've got to do your part. These kids leave it all on the field not just every Saturday, but every day that they practice, and days and months in between. As Hokie fans, you're proud of the part you have played in their success, from buying season tickets, to packing the stadium and being loud, to traveling by the thousands to the bowl games, so the next bowl invitation will be quick to come.
You've been there for the good times and been a part of the success. Now it's time to circle the wagons. Time for everyone to do a little extra.
For you, that means showing up to The Walk, being real, getting in the faces of your own players, and letting them know that if they go down, 65,000 Hokie fans go with them. Don't sit back. Don't stay at your tailgate, arguing over what's going to happen in the game. Show up at The Walk. Catch KJ's eye, let Bryan Randall hear you yell, and let Cols Colas look in your face and see how important it is to you.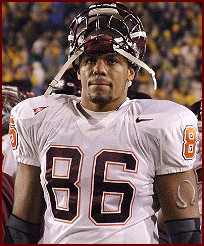 Get them so fired up that they tear up the locker room while they're waiting for the game to start. Get them so fired up that they want to run through a wall. Get them so fired up that they charge out of the Lane Stadium tunnel like they've been shot out of a cannon, and they don't stop until they've gone through the Miami Hurricanes like lightning through Lee Corso's rental car.
Do it, Hokie fans. The Walk will start around 5:45 Saturday night, at the Southwest corner of Lane Stadium. I want you lining Spring Road by the thousands. Be in place by 5:30, or earlier, and when the team shows up, I want you to be off the hook.
And later on, of course, do your thing in Lane Stadium. But The Walk is important. Because when it's done, when it's all over at about 11 p.m. Saturday night, you want to be able to say that you did your part.