Virginia Tech 67, Morgan State 54

by Chris James, TechSideline.com, 12/27/04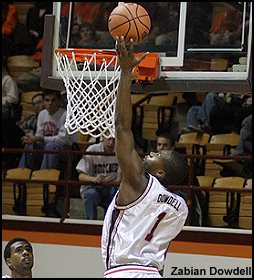 Blacksburg, VA - Virginia Tech got 17 points from sophomore guard Zabian Dowdell and knocked off the Morgan State Bears 67-54 in Cassell Coliseum on Monday night. Dowdell scored his 17 points by shooting 6-8 from the field, including 3-4 from 3-point range. Morgan State was led by Aaron Andrews, who recorded a double-double with 13 points and 10 rebounds.
The Hokies (6-4) started out slowly in this contest, and the game was back and forth for the majority of the first half. Morgan State (3-7), coached by former New Jersey Nets head coach Butch Beard, was able to take the lead from Tech twice during the first half, and led by as many as 4 points with 8:47 remaining till half time. The Hokies then began to use their talent superiority, took the lead 22-20 on a jumper by Allen Calloway with 5:19 remaining, and never relinquished the lead.
Tech led at one point in the first half by 8, and went into the intermission with a 36-30 lead.
Tech extended their led to 12 points with 13:01 remaining in the game on a layup by freshman guard Wynton Witherspoon. Witherspoon was fouled on the play and hit the free throw to put the Hokies up 50-38. However the Bears didnít back down, as they went on a 7-0 run to cut the lead to 50-45 with 10:58 remaining.
Zabian Dowdell then took the game into his own hands. After senior guard Carlos Dixon scored on a breakaway dunk, Dowdell hit two consecutive 3-pointers in a span of 1:07. This run put Tech up by 11 points. Dowdell added a layup soon thereafter, and Tech was never threatened again. Dowdell had 10 points and 1 assists in the last 7 minutes.
For only the 2nd time this season, the Hokies managed to outrebound an opponent. Tech held the advantage over the Bears on the boards by a margin of 39-32. Dixon led the Hokies in rebounding with 8. He also chipped in with 12 points. Unfortunately for the Hokies, they turned the ball over 20 times and missed some key opportunities to put the game away earlier. Morgan State turned the ball over just 16 times, but couldnít take advantage as they were outscored 19-5 in points off turnovers.
The game marked the return of sophomore center Coleman Collins, who is coming off foot surgery. Collins described himself as 80% before the game but managed to play 27 minutes, scoring 8 points and grabbing 6 rebounds. Another major contributor for the Hokies was freshman guard Marquie Cooke, who scored 7 points, grabbed 4 rebounds, dished out 3 assists and had 3 steals.
Tech returns to action this Thursday night when they play #21 Mississippi State in the Sugar Bowl Basketball Classic in New Orleans. Tip-off is scheduled for 7:30pm and the game is televised by Fox Sports Net and Comcast.
---

MORGAN ST (54)

                          fg    ft    rb             
                   min   m-a   m-a   o-t   a  pf   tp
C Grant             33   4-7   0-0   2-5   2   2   10
A Evans             13   0-1   1-2   0-2   1   1    1
A Andrews           31  6-14   1-4  3-10   2   3   13
T Mathis            16   2-5   0-0   0-0   1   2    4
S Brand             33  3-11   2-2   2-3   0   2   10
R Timus             19   3-9   2-2   3-4   2   3    8
J McLean             7   0-2   0-0   0-2   1   0    0
T Terrell            3   0-0   0-0   0-0   0   0    0
A Lawler             9   0-1   0-0   0-0   2   0    0
K Aujla             24  3-10   0-0   0-0   0   3    8
T Berkley           12   0-0   0-0   0-1   1   2    0
  
_____________________________________________________
TOTALS             200 21-60  6-10 10-27  12  18   54
_____________________________________________________

Percentages: FG-.350, FT-.600.
3-Point Goals: 6-20, .300 (C Grant 2-5, A Evans 0-1, T 
Mathis 0-1, S Brand 2-5, J McLean 0-2, K 
Aujla 2-6).
Team Rebounds: 5.
Blocked Shots: 3 (A Andrews 2, A Evans).
Turnovers: 15 (A Andrews 4, T Mathis 3, R Timus 2, C Grant, J 
McLean, T Terrell, K Aujla, T Berkley, A Lawler).
Steals: 8 (A Andrews 3, T Mathis 3, S Brand, A Evans).


VIRGINIA TECH (67)

                          fg    ft    rb             
                   min   m-a   m-a   o-t   a  pf   tp
D Washington        16   1-2   0-0   0-0   0   2    2
R Krabbendam        10   1-3   2-2   1-4   0   0    4
Z Dowdell           28   6-8   2-2   1-3   2   1   17
J Gordon            33   2-4   2-2   1-7   4   1    6
C Dixon             36  5-14   1-2   1-8   2   1   12
S Harris             4   0-0   0-0   0-0   0   0    0
W Witherspoon       12   1-3   3-3   0-1   2   0    5
M Cooke             21   3-8   0-0   2-4   3   2    7
A Calloway          13   2-2   2-5   1-5   0   1    6
C Collins           27   3-6   2-3   3-6   1   2    8
  
_____________________________________________________
TOTALS             200 24-50 14-19 10-38  14  10   67
_____________________________________________________

Percentages: FG-.480, FT-.737.
3-Point Goals: 5-19, .263 (Z Dowdell 3-4, J Gordon 0-1, C 
Dixon 1-8, W Witherspoon 0-2, M Cooke 1-3, C Collins 0-1).
Team Rebounds: 1.
Blocked Shots: 9 (A Calloway 3, C Collins 2, J Gordon
2, C Dixon, Z Dowdell).
Turnovers: 20 (C Dixon 5, J Gordon 4, Z Dowdell 3, S Harris 2,
W Witherspoon 2, C Collins, D Washington, R 
Krabbendam, M Cooke).
Steals: 10 (M Cooke 3, C Dixon 2, S Harris 2, Z Dowdell 2, J 
Gordon).


-----------------------------------
MORGAN ST            30  24   -  54
VIRGINIA TECH        36  31   -  67
----------------------------------- 

Technical fouls: None. A: 9,847. Officials: Allen 
Spainhour, Mike Eades, Reggie Cofer