Virginia Tech 69, Bethune-Cookman 58

by Will Stewart, TechSideline.com, 1/12/05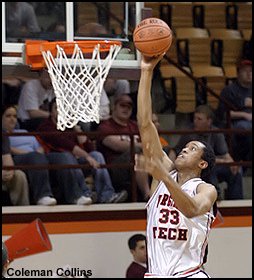 Blacksburg, VA - Virginia Tech opened the second half with a 23-6 run, erasing a 5-point half time deficit and spurring the Hokies to a 69-58 win over Bethune-Cookman in Tech's last non-conference game. Coleman Collins posted season highs of 18 points and 9 rebounds to lead the Hokies in both categories, and the Hokies tied a season low with just 8 turnovers on their way to the win.
Jamon Gordon added 14 points and narrowly missed a double-double, with 9 assists. Gordon also had 7 rebounds. Carlos Dixon added 11 points. Bethune-Cookman was led by Michael Williams with 18 points on 9-11 shooting, and Antonio Webb added 17.
Bethune-Cookman (6-7, 3-1 MEAC) spread the floor in the first half and threw down low to the 6-7 Williams, who showed a variety of low-post moves in going 6-7 and scoring 12 points in the first half. The Wildcats also hit 5-10 three-pointers in the first half, and that plus Williams' scoring helped BCC to a 33-28 half time lead.
Meanwhile, the Hokies were shooting just 12-38 (31.5%) in the first half and were outrebounded 24-17 in the first 20 minutes. Jamon Gordon suffered a miserable first half, shooting just 1-9 and scoring only 2 points. Collins (11 points on 5-10 shooting) and Carlos Dixon (8 first half points) were all that kept the Hokies from being down by more than 5.
The second half was a different story. The Hokies tightened the defense on Williams, holding him to just 4 shots (he made 3) and 6 second-half points. Spurred by Gordon's 12 second-half points (he finished the game with 14), the Hokies shot a laser-like 15-22 (68%) in the second half and outrebounded BCC 19-13. BCC's three-point shooting cooled off in the second half (2-9, 22%), and that spelled their doom. VT's 23-6 run to open the second half staked the Hokies to a 51-39 lead, which they eventually stretched to 60-46.
BCC made a 5-0 run to trim Tech's lead to 60-51 with 5:40 left, but buckets by Collins and Chris Tucker ended BCC's rally, and the Hokies went on to win easily.
On a night when many fans awaited the debut of tight end Jeff King on the basketball court, Tucker upstaged King. The sophomore walk-on played a career-high 14 minutes, all in the second half, and scored 5 points, had 3 rebounds, 2 assists, and 2 blocks, including a face-job on Williams that brought the small Cassell Coliseum crowd to its feet.
For his part, King was obviously basketball-rusty but competitive. He played 5 minutes, 4 of them in the first half, and went 0-3 from the field, including a missed three-pointer. King had a couple of rebounds and was whistled for 2 questionable fouls for bodying up to Williams down low. (King probably got a little too grabby with his hands.)
Freshman guard Marquie Cooke played 10 first-half minutes and didn't score, but he had 2 steals, and VT coach Seth Greenberg praised Cooke's defense in his post-game comments. "We need to get him on the floor more," Greenberg said, noting that Cooke didn't get off the bench in the second half.
The Hokies have 14 regular-season games remaining, all of them ACC contests. VT plays a noon home game against Clemson on Saturday, January 15th, and hosts NC State next Wednesday, January 19th, at 7 pm. All of Tech's remaining games are on TV, with the exception of their two games against the Miami Hurricanes.
---
BETHUNE COOKMAN (58)

                          fg    ft    rb             
                   min   m-a   m-a   o-t   a  pf   tp
D Clayton           11   0-2   0-0   0-1   0   1    0
D Larmond           30  5-14   1-2   0-2   1   3   14
M Williams          39  9-11   0-2  4-10   1   2   18
A Webb              33  7-17   0-0   0-3   2   1   17
J Carrier           13   0-1   0-0   0-2   1   1    0
K Crumbly           13   1-2   0-0   0-1   0   2    3
B Edwards            3   0-0   0-0   0-0   0   0    0
A Taylor            17   0-3   0-0   0-1   1   1    0
O Carter             8   1-1   0-0   0-0   1   3    2
W Murray             4   0-0   0-0   0-0   0   1    0
C Williams          12   1-4   0-0   1-5   0   2    2
N Berry             17   1-5   0-4   3-5   2   2    2
  
_____________________________________________________
TOTALS             200 25-60  1-8   8-30   9  19   58
_____________________________________________________

Percentages: FG-.417, FT-.125.
3-Point Goals: 7-19, .368 (D Larmond 3-6, A Webb 3-9, K 
Crumbly 1-2, A Taylor 0-2).
Team Rebounds: 7.
Blocked Shots: 4 (C Williams, D Larmond, M 
Williams, D Clayton).
Turnovers: 13 (M Williams 4, N Berry 3, J Carrier 2, K Crumbly
2, O Carter, W Murray).
Steals: 3 (O Carter, J Carrier, A Webb).


VIRGINIA TECH (69)

                          fg    ft    rb             
                   min   m-a   m-a   o-t   a  pf   tp
D Washington        17   3-4   2-2   0-5   0   1    8
C Dixon             36   4-9   1-1   0-2   1   0   11
C Collins           31  7-13   4-8   4-9   0   1   18
Z Dowdell           31   3-8   0-0   0-2   4   0    8
J Gordon            35  6-15   2-4   2-7   9   2   14
B Ritchie            1   0-0   0-0   0-0   0   0    0
S Harris             4   0-2   0-0   0-0   0   0    0
W Witherspoon       10   2-3   1-2   0-1   1   0    5
M Cooke             10   0-1   0-0   1-2   0   0    0
A Calloway           7   0-0   0-0   0-1   0   1    0
M Travis             1   0-0   0-0   0-0   0   0    0
J King               5   0-3   0-0   2-2   0   2    0
C Tucker            12   2-2   1-2   0-3   2   2    5
  
_____________________________________________________
TOTALS             200 27-60 11-19  9-34  17   9   69
_____________________________________________________

Percentages: FG-.450, FT-.579.
3-Point Goals: 4-13, .308 (C Dixon 2-4, Z Dowdell 2-5, J 
Gordon 0-1, S Harris 0-1, W Witherspoon 0-1, J King 0-1).
Team Rebounds: 2.
Blocked Shots: 11 (J Gordon 4, Z Dowdell 2, C Tucker 2, C 
Dixon, A Calloway, C Collins).
Turnovers: 8 (J Gordon 4, C Dixon, C Collins, J King, Z 
Dowdell).
Steals: 6 (Z Dowdell 2, M Cooke 2, J Gordon, D Washington).


-----------------------------------
BETHUNE COOKMAN      33  25   -  58
VIRGINIA TECH        28  41   -  69
----------------------------------- 

Technical fouls: None. A: 8,741. Officials: Curtis
Blair, Tony Dawkins, Zelton Steed