Virginia Tech 76, Morgan State 66
by Will Stewart, TechSideline.com, 12/1/03
Blacksburg, VA -- Virginia Tech got a career-high 36 points from Bryant Matthews and turned up the defensive intensity in the second half to run away from Morgan State in Cassell Coliseum, 76-66. The win puts the Hokies at 3-1 on the season, and Morgan State drops to 1-2.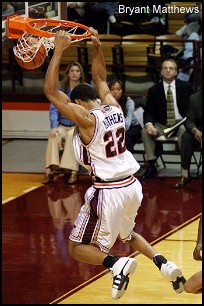 Matthews had 18 points in each half, shooting 14-of-22 from the field and 8-of-11 from the free throw line in topping his career high of 30 set against Virginia last season. The 36 points scored by Matthews are the most since HokieCentral.com/TechSideline.com starting keeping track of Hokie basketball in 1996-97. According to the 1996-97 media guide, no player scored over 30 points in 1995-96, making Matthews' performance the top scoring output by a Hokie since at least the 1994-95 season.
But what led the Hokies to this win was defense and rebounding. At half time, the score stood at 37-36, Morgan State, and the visiting Bears had shot 60% (15-of-25) and had matched rebounds with Tech, 17-17. Morgan State also hit 6-of-10 three-pointers in the first half.
The second half was a different story. The Hokies collapsed into the passing lanes, stole the ball five times, blocked six shots, and held Morgan State to 31% shooting (9-of-29), including just 2-of-9 from three-point range. VT outscored Morgan State 32-14 to open the second half and take a 68-51 lead with 6:59 to go, putting the game out of reach.
VT dominated MSU inside, particularly in the second half, when they outscored MSU 24-8 in the paint and outrebounded MSU 25-12.
"We knew they were a terrible defensive rebounding team," Matthews told the Tech radio network after the game, "and that if we kept pounding it inside and kept being patient with our offense, good things would happen."
"When you don't keep people in front of you, and you leave them open jumpers, and you let them split you (on defense), they shoot a high percentage," Coach Seth Greenberg said of Morgan State's first half shooting accuracy. "When you keep them in front of you, get a hand in their face, and don't let them split you, they don't shoot a high percentage."
Though Matthews put up one of the highest scoring totals in at least a decade, he had some trouble finishing shots inside and on the break. "He could have had 50," Greenberg said candidly.
The freshman guard tandem of Zabian Dowdell and Jamon Gordon had a good game taking care of the basketball. Each player turned it over just one time, and they both had great figures in assists (8 for Dowdell, 6 for Gordon). Gordon had 7 steals and just missed tying the Tech record of 8 steals, held by Dell Curry (1/14/84, versus Louisville) and Rod Wheeler (12/11/90, vs. VCU).
Virginia Tech is now 3-1 on the season. The Hokies' next game is Thursday, December 4th, against Old Dominion, at 7 p.m. in Cassell Coliseum.
================================================================================
Virginia Tech 76, Morgan State 66
12/1/03, Blacksburg, Va.
Score by Periods                1st  2nd   Total
Morgan State..................   37   29  -   66
Virginia Tech.................   36   40  -   76

--------------------------------------------------------------------------------
Morgan State 1-2
                          TOT-FG  3-PT         REBOUNDS
## Player Name            FG-FGA FG-FGA FT-FTA OF DE TOT PF  TP  A TO BLK S MIN
02 WINKFIELD,Reggie.... f  5-8    3-4    0-0    1  0  1   1  13  2  0  0  2  27
21 BRAND,Sam........... f  1-3    0-2    0-0    1  3  4   1   2  2  2  0  0  26
40 ANDREWS,Aaron....... c  5-9    0-0    0-2    3  6  9   3  10  2  3  1  1  35
01 BARROW,Cedrick...... g  4-12   2-4    5-6    2  4  6   0  15  2  5  0  2  34
03 TIMUS,Ronald........ g  2-8    0-1    1-2    1  3  4   3   5  1  2  0  0  22
04 GRANT,Chris.........    0-4    0-3    0-0    0  0  0   0   0  1  3  0  1  13
05 MCLEAN,Joseph.......    7-9    3-4    4-6    1  1  2   2  21  1  3  2  1  18
11 TERRELL,Theodore....    0-1    0-1    0-0    0  1  1   1   0  1  0  0  0   6
12 EVANS,Alphonso......    0-0    0-0    0-0    0  1  1   1   0  0  1  0  0   3
13 LAWLER,Aaron........    0-0    0-0    0-0    0  0  0   0   0  0  0  0  0   2
33 BERKLEY,Tim.........    0-0    0-0    0-0    0  0  0   2   0  0  0  0  1  11
55 MCIVER,Joseph.......    0-0    0-0    0-0    0  0  0   0   0  0  0  0  0   3
   TEAM................                         1     1
   Totals..............   24-54   8-19  10-16  10 19 29  14  66 12 19  3  8 200

TOTAL FG% 1st Half: 15-25 60.0%   2nd Half:  9-29 31.0%   Game: 44.4%  DEADB
3-Pt. FG% 1st Half:  6-10 60.0%   2nd Half:  2-9  22.2%   Game: 42.1%   REBS
F Throw % 1st Half:  1-2  50.0%   2nd Half:  9-14 64.3%   Game: 62.5%   3,1

--------------------------------------------------------------------------------
Virginia Tech 3-1
                          TOT-FG  3-PT         REBOUNDS
## Player Name            FG-FGA FG-FGA FT-FTA OF DE TOT PF  TP  A TO BLK S MIN
22 MATTHEWS, Bryant.... f 14-22   0-2    8-11   2  7  9   4  36  1  7  3  1  39
25 McCANDIES, Philip... f  5-10   0-0    0-1    3  4  7   1  10  1  5  1  1  24
01 DOWDELL, Zabian..... g  2-8    1-4    0-0    1  2  3   1   5  8  1  0  1  36
02 GORDON, Jamon....... g  5-16   0-1    2-2    3  5  8   4  12  6  1  2  7  37
24 SAILES, Markus...... g  1-3    0-1    1-2    1  3  4   1   3  2  0  0  0  36
15 LATTIMORE, Mykhael..    0-0    0-0    2-3    2  0  2   1   2  0  1  0  0   6
21 CALLOWAY, Allen.....    4-6    0-0    0-0    6  1  7   2   8  0  1  1  0  22
   TEAM................                         1  1  2
   Totals..............   31-65   1-8   13-19  19 23 42  14  76 18 16  7 10 200

TOTAL FG% 1st Half: 16-38 42.1%   2nd Half: 15-27 55.6%   Game: 47.7%  DEADB
3-Pt. FG% 1st Half:  1-5  20.0%   2nd Half:  0-3   0.0%   Game: 12.5%   REBS
F Throw % 1st Half:  3-6  50.0%   2nd Half: 10-13 76.9%   Game: 68.4%    1

--------------------------------------------------------------------------------
Officials: William Bush, Doug Simons, Bryan Kersey
Technical fouls: Morgan State-None. Virginia Tech-None.
Attendance: 5580

2003-2004 Men's Basketball Schedule/Results